June 11th 2006, ECW One Night Stand. Rob Van Dam stood in the ring awaiting his opponent. A figure emerged holding his title up high and his head down to the floor as a torrent of boo's rained down upon him. A violent feeling invaded the arena, a genuine sense of hatred and brutality from the people to the man displaying the gold spinning belt. That man was John Cena.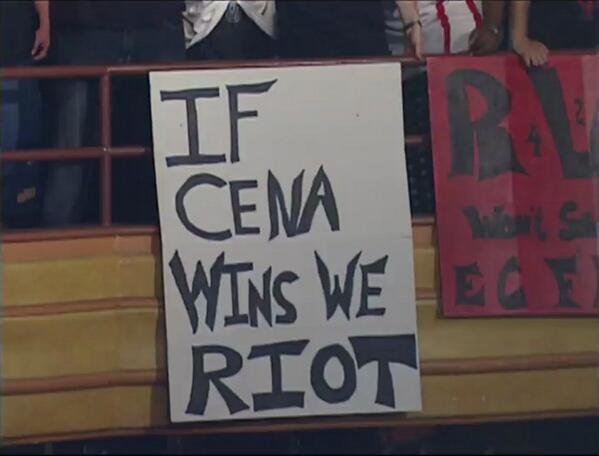 The barrage of detest refused to cease throughout the match, as the infamous words "If Cena wins, we riot" ominously loomed in the background. I was eleven years old, and I couldn't understand what was going on – Cena hadn't done anything wrong. He wasn't a bad guy, he was always a good guy; he hadn't said anything offensive, he'd shown RVD nothing but respect, so why did they hate him? It didn't add up, it was a reaction that I had never experienced before.
He was the most hated man in the building simply by being himself. The same man who could incite a riot if his hand was raised in the Hammerstein Ballroom that night, could be welcomed by cheers and adjuration the next night on Raw. ECW One Night Stand in 2006 highlighted the mixed reaction that fans felt towards Big Match John, and those opposing feelings haven't died down over ten years later.
The biggest discussion in wrestling for the past ten years has been the possibility of Cena turning heel, yet he already is a heel. What even is a heel these days? Surely it can't be the archetypal villain, because they are currently some of the most popular names in the business, and just because somebody isn't a typical heel doesn't mean they're not someone's idea of the bad guy. If we're categorising a 'heel' as somebody who wrestling fans hate and garners the most boos, then it doesn't get much bigger than the face that runs the place. John Cena creates the most unique reaction in wrestling – he is some people's idea of everything that is wrong with the WWE, whilst simultaneously being other fans' hero. He is the biggest face and the biggest heel at the same time, and that's why he's so important. It's this unique reaction that creates such an aura of importance around him and draws so many eyes onto him – people will pay to see John Cena, and just as many people will pay to see someone beat John Cena.
The beauty of John Cena is that he will always elicit emotion, both positive and negative. To evoke such a strong reaction at both ends of the spectrum simultaneously for such a long period of time is incredible. Admittedly, I've always wanted to see a John Cena heel turn, and part of me would still love to see him turn his back on the Cenation purely out of curiosity, yet nobody else in the company, or the entire wrestling industry for that matter, gets the unique reaction that he does, and that should not be tampered with.
Now, don't get me wrong, I'm not exactly a member of the Cenation, but I don't think the leader gets the appreciation he deserves. Not only does he bring so much mainstream appeal to the wrestling world (and the amount of time and dedication he puts in to his charity work is something everyone needs to respect), but he really is the measuring stick by which every other performer in WWE is compared to.
When Kevin Owens beat John Cena clean in his debut WWE main roster match back in 2015, the whole wrestling community was in shock. KO had managed to do something in one match that few had even come close to achieving, which instantly showed the world that he was important, and was destined for amazing things. Just over one year later, and he's a two-time Intercontinental Champion, has main evented a WWE PPV, is best friends with Chris Jericho (something we are all jealous of), and is the current, longest-reigning Universal Champion.
When AJ Styles came to WWE, nobody expected him to win the world title because he came with so much baggage in the form of his strong reputation as "Mr TNA". Sure, it was exciting to actually see The Phenomenal One rubbing shoulders with some of WWE's biggest stars, yet despite his amazing talent, it seemed impossible that he could ever reach Vinny Mac's coveted mountain top due to his affiliation with NJPW and WWE's version of Voldermort, the company out of Orlando that must not be named. That was until he beat John Cena clean at Summerslam this year. Once he had defeated everything that Vince McMahon stands for in one muscle-bound form, it was clear that Vince's brass ring wasn't too far from his grasp after all. Less than a month later, he was the new WWE Champion.
Cena's incredible reputation and position in the company propels everyone who works with him into the limelight; if you can pin the standard bearer clean on the mat for a three count, you are bound for greatness.
Not only is he important because of the effect he has on both his peers and the audience, but he's also a crucial part of WWE because he can put on a damn fine match. You can complain about his 'five moves of doom' as much as you want, but you cannot deny that the fifteen-time world champion has been a part of some amazing matches in his time: his one-hour encounter with Shawn Michaels on Raw; the aforementioned matches with Owens in 2015, and Styles in 2016; his TLC match against Edge; the fantastic series of US open-challenge matches he had in 2015; his brawls with Brock Lesnar; his Summerslam match against Daniel Bryan; and of course, the first WWE match to receive a five star rating from Dave Meltzer in the twenty-first century, his epic encounter with CM Punk at Money in the Bank. Just look at how long that incomplete list is! The fact that one man was a part of all of those memorably great matches (and more) is no coincidence. Former WWE superstar Alberto El Patron (Del Rio) has gone on record saying the only person he has ever allowed to call a match in the ring was John Cena, due to his exceptional knowledge of ring psychology. And yes, not every match he has is a classic, but it doesn't have to be; he pulls it out when he needs to and when it's important. So yes, we may only see a limited number of his moves during an average WWE TV match, yet when it comes down to it, the face that runs the place brings out every move and trick in his arsenal.
You may not like him, you may chant that he sucks, yet when you look at the impact he has on the fans, the people he works with, and the matches he's involved in, there is absolutely no denying that the face of WWE is pretty damn important.
Follow me on Twitter for more wrestling – twitter.com/hairywrestling