A wrestler's finisher/s is/are the best weapon/s in their arsenal. It says something about them, explains how they choose to fight and how they decide to end their matches. Not only that, good finishers can also define the wrestler they belong to – what would Stone Cold be without the Stunner, or Scotty 2 Hotty without The Worm? Given how important they are, nailing a good finisher is one of the most important decisions a wrestler can make; sometimes they get it right, sometimes they get it wrong. In this list, I'll be looking at those in wrestling today outside of WWE that really got it right. Unlike my best and worst WWE finishers lists, I will only be looking at the positive side of finishers in the world outside of Vinny Mac's house of graps, for now at least anyway.
I'm going to be ranking the Top 15 finishers in Wrestling Outside of WWE today based on how effective they are, how believable they are as a move capable of finishing a match, and how visually appealing they are to me.
Now, obviously ranking finishers from almost the entire wrestling industry is a rather daunting task, therefore I have only looked at wrestlers I am aware of from major companies and well-known indie promotions, such as TNA, ROH, PWG, Lucha Underground, etc. Also, I will only be including one finisher per wrestler/team, although a member of a team is allowed to have their own singular finisher featured if their tag team's finishing move is also a part of the list.
Finishers are incredibly subjective things, thus if your favourite moves aren't featured, or aren't as high as you would expect, let me know about it in a comment or on Twitter (@hairywrestling). With that being said, let's get on with the list.
Best Moonsault Ever
It does what it says on the tin. Even at 46 years old, Christopher Daniels, in my opinion, still has the most flawless moonsault in wrestling. In fact, it appears that The Fallen Angel is completely incapable of aging when watching him in the ring (just take a look at the Ladder War match from ROH All-Star Extravaganza 2016 for evidence of that). Even though this move doesn't tend to finish many matches these days whilst he's a part of The Addiction (although it is an integral component of one of their tag team finishers, The Best Meltzer Ever), it is still a thing of pure beauty.
OsCutter
Arguably one of the best high-flyers Britain has ever produced, only rivalled by WWE's Neville, Will Ospreay has taken the wrestling world by storm. With a wealth of mystifying maneuvers to choose from, Will decides to finish off his opponents using a springboard cutter that he always hits with impressive levels of height and precision. At only 23 years old, Ospreay is already one of the most exciting performers on the planet, with no doubt monumental achievements on his horizon, and the OsCutter will help him attain those.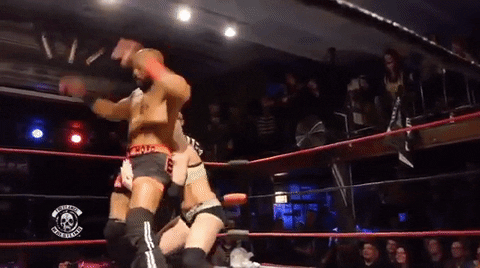 Balls-plex
Seeing a woman grab a man by the balls, and subsequently suplex them by the testes is quite an impressive, yet painful sight for us males. What makes this move so satisfying is that it seems to literally be a shot to the balls to every sexist, male wrestling fan out there. Although I definitely wouldn't want to be on the receiving end of it, I will never get tired of seeing Candice Lerae delivering her patented Balls-Plex.
Starship Pain/End of the World
For JoMo to be able to rotate his body so much in such a short period of time is almost as impressive as his abs. It doesn't quite have the impact and height of some of the other moves featured on this list, nonetheless, Starship Pain is still a sight to behold, and more than worthy of a place on this list.
Crossface Chickenwing
Sometimes a finisher is made special purely because of the person delivering it. The Crossface Chickewing is quite a simple, traditional wrestling hold, most famously used by former WWE Champion, Bob Backlund. These days, it wouldn't usually turn many heads, yet in the hands of a villain, it has every single fan on their feet.
The key to what makes Marty Scurll's Crossface Chickenwing great is the amount of pride he has for the move: it's all over his beautiful merchandise, he regularly threatens members of the public he dislikes with the move over Twitter, and he is guaranteed to enthusiastically exclaim the word, "CHICKENWING!" multiple times in every match he has. By putting so much emphasis and focus on his finishing move, it makes fans anticipate it so much more. Also, Scurll's ability to leap into mid-air and counter springboards straight into this submission is always an impressive sight. The combination of his brilliant gimmick, villainous look, superb wrestling ability, and fantastic finisher will definitely lead the Crossface Chickenwing Connoisseur to big things.
Lethal Injection
There's a reason why Jay Lethal placed fifth in the PWI 500 this year. Simply put, he's one of the best wrestlers on the planet, he'll be the first to tell you that. His reign as ROH World Champion was the best in company history, no question, and every victory came at the hands of the Lethal Injection. Even though the move does require a bit of an elaborate set-up, these theatrics add to both the visual appeal of the move, and the impact of the actual cutter itself. Although I'm disappointed he's no longer champion, I'm excited for Lethal's future, and to see him hit the Lethal Injection on more big opponents.
Fallout
Do you know what happens when a 240 pounder with a big, awesome beard lifts you up in a belly-to-back suplex whilst an almost 300 pounder with an even bigger, awesome beard dives through the air and delivers a leg drop? The answer: brilliant things for viewers, very bad things for you.
War Machine are one of my favourite tag teams in all of wrestling, and not just because one of them is called Hanson, which is my last name, and also happens to have a beard like I do, nope, that doesn't even come into it at all, not even slightly…shut up. They're big, bad, bearded guys with one of the best, most powerful tag team finishers in all of wrestling.
Bang-a-Rang
Dalton Castle is a wonderful combination of unexpected strength, technical wrestling ability, flamboyance, and peacock feathers, which is exactly what his finisher, Bang-a-Rang is too…well, except for the feathers. Castle cyclones his opponent into the canvas in the most majestic of fashion, and it always ensures victory. The Prince of Peacocks is one of the most entertaining wrestlers in Ring of Honour, and his finisher is a big part of that.
Feast Your Eyes
Donovan Dijak's Feast Your Eyes is like a smoother, more fluid version of a GTS. The way Dijak perfectly plunges his opponent straight onto his striking knee every time he hits the move really is a feast for the eyes. With his size and ability, there is no doubt that Donovan Dijak has a big future, and his stunning finisher will play a big part in his success.
6 DDT-J
Just look at it.
Even though Dragon Azteca Jr doesn't actually get a chance to get many three counts in Lucha Underground, but there is no denying that the DDT-J is an incredible sight. Yes, it is a little ridiculous, and it's clear his opponent is the one flinging Azteca into the air like pizza dough, but regardless, the DDT-J is simply mesmerising, whilst also looking completely devastating. There has been much call from the IWC for the DDT to once again become a legit finisher, and this is certainly one way of ensuring that.
5. Destino
Tetsuya Naito is a fucking god (not to mention one of the few men in the world that can look cool whilst wearing an all-white suit), and every god has their signature, all-mighty weapon: Zeus had thunder, Hercules had his inhuman strength, and Naito has Destino. The Los Ingobernables de Japon leader swings around his foe, sending the back of their skull slamming into the mat. Pleasing to the eye, deadly to his opponents.
Death Rowe
Death Rowe is as brutal as it sounds. Raymond Rowe makes his second appearance on this list, this time without the help of his partner. He lifts his victim up for a full nelson slam, and then proceeds to thrust his knee into the back of their head as they fall. Unfortunately, we don't see this finisher all too often as he is currently teaming with Hanson, yet when we do, it makes me wince in pain every time. It may not have topped my list, but this move is definitely the most deadly.
630 Senton
It's hard to believe that Ricochet, or Prince Puma depending on the programme you're watching, is an actual human. The feats of athleticism that this supposed 'man' is capable of are bewildering. If it is at some point revealed that Ricochet is in fact a wrestling cyborg designed to make fans gasp around the world, it will come as no surprise to me. The 630 Senton is all the evidence you need for the indie star's incredible abilities. Not only does it look almost impossible to hit, it's also extremely effective; crashing onto an opponent's sternum after rotating at the speed required to execute the move is bound to create a bone-shattering level of force. It's the combination of visual splendour, grace, athleticism, and striking momentum that earns the 630 Senton the number three spot on my list.
Meltzer Driver
Over-the-top, flashy, always precise, and a complete treat for the eyes – these are words that describe both The Young Bucks and their finishing move, the Meltzer Driver. A regular tombstone piledriver is effective enough as it is, but when you add in another man launching himself off the ropes, rotating, and then helping to spike the victim into the floor, that's when the move becomes five stars. The Bucks other finisher, More Bang for Your Buck, is also worthy of a place on this list, but the Meltzer Driver is simply amazing every single time I see it, and one of the most 'elite' moves in wrestling.
Honourable Mentions:
Sable Bomb – Martin Kirby is one of the most entertaining wrestlers on the British scene. Even though it's just a regular powerbomb, anyone who actually calls their finisher the Sable Bomb (except for Sable), and repeatedly calls for the move throughout every match is going to win a place in my heart, and in my honourable mentions.
Fall of the Angels – Angelico hits this running crucifix turnbuckle powerbomb with so much momentum and force that, although not worthy of a place on my list, there's no way I couldn't mention it.
1.One-Winged Angel
Kenny Omega is currently one of the best professional wrestlers in the world; he has accomplished so much in the past year, and every single one of his major, history-making victories have been thanks to the One-Winged Angel. As good as Croyt's Wrath is, Omega's One-Winged Angel just tops it for me. This angel sends anyone who falls victim to it falling from the heavens and soaring to Earth right on their head, neck and back, setting Omega up perfectly to seamlessly transition into a pin, closely followed by a winning three count.
Perhaps it's my love for Omega that makes me slightly bias towards it, yet whatever the reason, there is no denying that this move, as well as many others featured on this list, is a deserving winner of the best finisher in the world of wrestling outside of WWE.
Follow me on Twitter for more wrestling – @hairywrestling