Bullet Club is the most popular stable in the wrestling world. Not since the late 90s have we seen a group completely take over the sport quite like this. Bullet Club shirts are the new NWO shirts, and too sweet is the new…too sweet.
The group has had some of the biggest stars in wrestling in its ranks over the last few years, including two of WWE's biggest stars right now, but given the turnover of talent they've already experienced since their inception, and that the group currently contains some of the most highly scouted performers in the world, Bullet Club is always open to new recruits. But when the time comes to bring in some new bone soldiers, who should the Biz Cliz turn to? Well, I may have just who they are looking for. Here are my Top 10 Candidates to Join Bullet Club.
For this list, I'm not including anyone currently signed to WWE. I'm only selecting active independent wrestlers that would not only be able to join the group immediately, but are the most deserving and most appropriate to do so. With that being said, let's get on with the list.
HikuLe'o
So perhaps this is cheating slightly as it is almost a certainty that this man will join Bullet Club at some point in 2017, but as he's yet to even debut in New Japan, I'm still counting him.
For those who don't know, which will be the majority of people reading this considering how inexperienced he is, HikuLe'0 is a 6'8, 280 pound monster of a man, who also just happens to be the son of the legendary Haku. Considering his two brothers are already Bullet Club soldiers, Tama Tonga and Tanga Roa, it looks like the Guerrillas of Destiny are about to get a gigantic new member. With his inhuman size, heritage and connections to the business, it looks like HikuLe'0 could do pretty well for himself, especially if he debuts with this group's logo on his gear.
Donovan Dijak
Donovan Dijak is 6'7, capable of unbelievably athletic moves and dives for a man his size, and currently has one of the best finishers in the wrestling world. Taking all that into account, why hasn't a big-time stable snapped this hot prospect up already? Whether being Young Bucks' new bodyguard now that Cody Hall has left the group, or maybe even forming a gargantuan tag team along with Bad Luck Fale, there's definitely a spot big enough for the hugely talented Donovan Dijak in the hottest stable in professional wrestling.
Jay Lethal
In 2016, Bullet Club made Jay Lethal's life complete hell. They attacked him repeatedly, caused him to lose his beloved ROH World Heavyweight Championship, and he has not been the same since. It showed that even though he is one of the best wrestlers in the world, he still could not compete against the combined might of Bullet Club. So, as the old saying goes, if you can't beat them, join them.
It's clear that this loss affected Lethal mentally as well as physically, and perhaps the only way for the former world champ to regain his former glory is to join with those who caused him to lose it.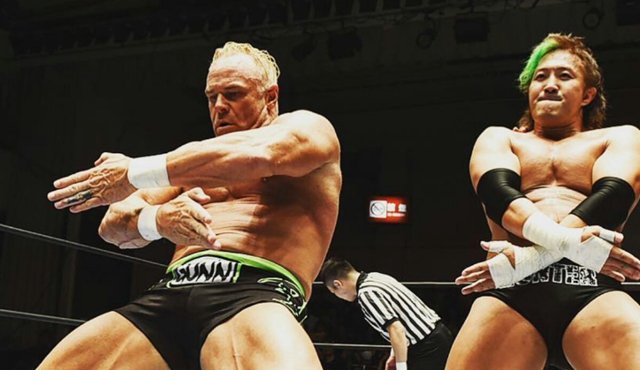 Billy Gunn
Think about it, who better to carry on the tradition of screaming, "SUCK IT!" than a man who's been doing it for almost 20 years. As we've seen from his performances in the New Japan Rumble at Wrestling Kingdom 11, as well as the following night at New Year's Dash, the former New Age Outlaw still has plenty left in him, and is in phenomenal shape for a 52 year old. He has teamed against the group on a couple of occasions already, but nothing a good old heel turn couldn't fix! The group would have to be careful that Gunn joining the group wouldn't come across as a way of cashing in on DX or a simple re-invention of the New Age Outlaws, but if they pulled it off well, Billy Gunn could easily add a little bit of legendary star power to the already world famous group.
Jay White
One of the best things about Bullet Club, and stables in general for that matter, is their ability to take wrestlers who are on the verge of stardom, or in some cases in a state of minor obscurity, and thrusting them into the limelight on a worldwide stage. If Omega and the gang are looking for a bright new star to mould in their image then look no further than Jay White.
White is one of the best up-and-coming wrestlers in the world. He's currently involved in a talent exchange with ROH and Rev Pro, but he's actually signed to NJPW, so what better way to mark his return to Japan than having him debut as the hottest stable in wrestling's newest member? It wouldn't exactly send shockwaves around the wrestling world, but Jay would be able to finally fill the bullet shaped hole in the junior heavyweight division that was left when Kenny Omega lost the division's championship back at Wrestle Kingdom 10, since it seems as though New Japan have no plans on using Chase Owens any time soon. Bullet Club can't completely take over the company without that championship, and Jay White is the perfect candidate to do so.
Kota Ibushi
We are all aware of the history between Kenny Omega and Kota Ibushi, and given how often The Cleaner borrows moves from his former tag team partner's arsenal during big matches, it seems as though he doesn't want any of us to forget any time soon.
Although he doesn't exactly have the right look or the typical cool, villainous swagger we associate with the Biz Cliz, he does have the connections and the ridiculous amounts of talent to be a perfect new recruit.
Ibushi joining the group could happen one of two ways: either he could be brought in by Kenny as an attempt to re-form their partnership, in order to benefit both of their careers in New Japan, or if Kenny decides to leave his beloved club behind, he could bring in the one man he knows is talented enough to fill his boots as leader. Either way, The Golden Star would certainly shine brightly as a bone soldier.
Penta El Zero M (AKA Pentagon Jr./Pentagon Dark)
Just look at Penta: dark, villainous, and undeniably awesome – what better candidate for the Bullet Club than him?! Not only would his presence feel right at home alongside his fellow stablemates, his status in Mexico could also allow the group to dominate yet another country, possibly even re-invigorating the Bullet Club Latinoamerica sub-group, much like Los Ingobernables de Japon.
Whether becoming the leader of a new branch or becoming a high-ranking member over in Japan, either way it's certain that the now former Pentagon Jr would make one hell of an impact breaking arms and causing harm as a member of Bullet Club.
3. Kazuchika Okada
Although it is a complete long shot, given that he's the number one babyface in Japan right now, and already the leader of his own stable, Chaos, this potential club member is a little out of left field, but imagine how much impact it would make.
Bullet Club and Chaos stare at each other across the ring: a brawl is about to commence, Gedo steps up first to start proceedings, when just as it looks like Okada is joining his longtime teammate, he suddenly grabs Gedo's wrist from behind, spins him around, and hits him with an alrighty Rainmaker. Chaos are stood immobile in utter shock, when the Bullet Club begin their assault, and welcome their newest member.
Okada, now sporting dyed black hair and the Bullet Club logo, realised the true talents and toughness of Kenny Omega after their unbelievable match at Wrestle Kingdom 11, and that if they worked together, they would be unstoppable. And thus, in the midst of a shower of Bullet Club bucks raining down from the ceiling, the Biz Cliz hold IWGP Heavyweight gold once again.
Tell me that doesn't sound amazing, I dare you.
Will Ospreay
Ospreay is primed and ready for main event stardom, so when Bullet Club eventually loses a major singles player from its ranks, whether that be Kenny Omega or Adam Cole, Ospreay would be the ideal candidate to take the reigns, or in this case, the gun. We've already seen in companies like Progress and WCPW that Ospreay can easily portray a convincing heel, even with his jaw-dropping moveset intact, so a stable change from Chaos to Bullet Club could definitely be on the cards. A standard heel turn against his Chaos teammates and a point of the finger gun to his fallen former friends, and then the rest is history.
Honourable Mentions
Stu Bennett – It's not clear how interested the former Wade Barrett is in wrestling anymore, but if he wanted to come back, a run with Bullet Club would be a great way to do it. Imagine Bennett appearing in an ROH match out of nowhere, pulling down his elbow pad for his signature Bullhammer, and when the pad turns inside out, it reveals the Bullet Club logo. That would be too sweet.
Jeff Hardy – If Brother Nero ever decides to break away from his broken brother, perhaps he will want to align himself with some spot monkeys just like him in the form of the Bucks of Youth. That would certainly make for some WONDERFUL viewing.
Travis Banks – Maybe a little bit too left field to be an actual contender, but Banks' hard-hitting, brutal style would be the perfect fit for Bullet Club, and would make him a star pretty much overnight.
Juice Robinson – Awesome hair and an awesome wrestler, definitely club material.
Matt Riddle – Just imagine how awesome Riddle's MMA shorts would look with Bullet Club logos all over them?
War Machine – Two big, bad, bearded dudes that look like they could legitimately kill you? Sounds like a good fit for Bullet Club to me.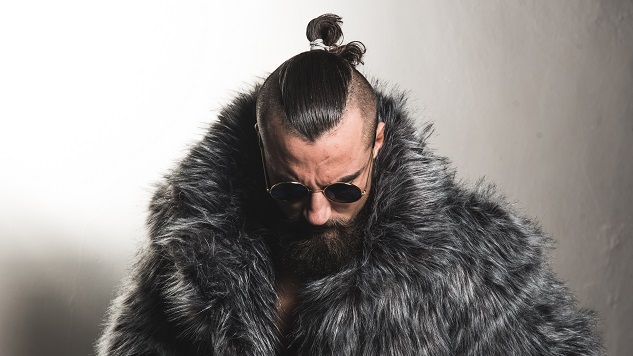 Marty Scurll
Marty Scurll is a pure villain through and through. With his unique look and fantastic wrestling ability, he'd fit right in with The Elite and co, and considering he already holds the ROH Television title, whilst still being a key player in the UK wrestling scene, he would be a vital part in the stable dominating the entire wrestling world.
Unlike others in this list, I wouldn't see Scurll completely changing his look to fit in with the club, or even totally dedicating himself to it. Scurll is too much of a unique individual to suddenly fade into a team, he must stand out even as part of an alliance. As such, he would compete for singles titles, and rarely appear in tag matches, but he'd still wear the logo proud on his trunks, as well as on his trademark umbrella.
The Villain tops my list because more than any other potential recruit, Scurll really encompasses what Bullet Club are all about – he is effortlessly cool, clearly he is oozing villainous charm, he is a heel through and through whilst also being undeniably popular, and is capable of teaming with others whilst still being able to remain an individual, and stand out from the crowd. Not only would he bring gold to the group, he would bring a whole new nation to conquer, and a whole lot of talent to the already overflowing group.
It may be unlikely that Scurll will ever join Bullet Club, and given how much has career has advanced in the last couple of years, it seems as though the master of the chickenwing will do just fine without a collection of stablemates to assist him, but if he were to bring his unique brand of villainy to the ranks of Bullet Club, well, that would be too sweet.
Who do you think should join Bullet Club? Let me know in a comment below or tweet me your suggestions @HairyWrestling.