Talking about wrestling always leads to some interesting thoughts being brought to the table. You might discuss who WWE should sign next, or who should be brought up to the main roster, perhaps you like to chat about the best stars of the Attitude Era or the most memorable moments from your childhood, maybe your friend will confess they have a secret crush on Vickie Guerrero or tell you who's bulge they think looks the best in a tight little pair of wrestling trunks – whatever the topic of wrestling discussion, it's always bound to be 'interesting' in one way or another.
During one of these in-depth grappling talks recently, my friend Josh Lochrie (follow him on Twitter @Lochri69) brought up an interesting idea, so interesting in fact that I had to write a whole damn article about it.
Back in the late 90s, during an attitude-filled episode of Raw, WWE Hall of Famer Mick Foley, under his Mankind persona, was handed a gift by WWE Chairman and giant grapefruit owner, Vince McMahon. It was a tatty leather strap with "Hardcore Championship" written across it, created from the smashed remains of a title that came before it. What started out as a way for the boss to blackmail his way into Mankind's heart, quickly turned into one of the craziest parts of the Attitude Era, and considering that's a period of time where a pensioner gave birth to a hand, that is certainly saying something.
When it was captured by the late Crash Holly, the belt was given the exclusive 24/7 rule – it could be defended at any time regardless of the location or the challenger. With such a unique gimmick, the title managed to create some truly memorable and quirky moments, including a match in a children's play area, a pinfall in a lake, and two hall of famers dressed in evening gowns. The belt was so interchangeable, the longest reign was only 97 days (pre-24/7 rule), the belt was held a record 27 times by one person, and Shawn Stasiak managed to win the belt on fifteen occasions, yet never once appeared on television as champion, and his fifteen collective reigns amass to less than an hour collectively. Between June 3rd 2002 and July 15th of the same year, the title changed hands an amazing 35 times, all of which took place at house shows. The Hardcore Championship was truly a sign of the times, and a perfect summary of the Attitude Era, and as such, it was only fitting that the belt was retired in 2002 once the era was over.
But luckily for us fans of the ridiculousness that the Hardcore Championship brought to wrestling, the hottest potato in all of WWE isn't the only 24/7 belt to exist in this sport, and in fact, it isn't even the craziest, not by a long shot. Japanese indie promotion DDT are known for being a little bit 'out there'. Sure, it's been the home to some fantastic matches from the likes of Kota Ibushi and Kenny Omega, but it's also the place where a man first suplexed someone using only their penis. If there was only one way to sum up this unique company, it would definitely be their Ironman Heavymetalweight Championship.
The name itself gives you an immediate idea of how ridiculous this strap is. Trying to keep up with the belt's current holder is pretty much a part-time job. It's been held well over 1000 times, and has been won by everything from a dog to the actual belt itself. It was exchanged 62 times in one single night, and even once swapped hands inside a dream; it took the 24/7 rule and ran with it into ridiculous new places. Notable former champions (who were actual humans) include current NXT Women's Champion Asuka, Rey Mysterio, Scott Hall, Rhyno, and more, but it's certainly not something that's hung up in anyone's trophy case.
In the last few years, we've seen the small Japanese company take advantage of advances in technology by using their most unique asset as a way to further promote their brand around the world. Wrestlers the likes of Joey Ryan post videos on social media from time to time of miniature sequences that show the belt being traded multiple times within a matter of seconds, with very entertaining results. It gives fans a reason to follow the antics of the DDT roster across social media, and is an easy, accessible, and hilarious way for Western fans to enter the insane world of DDT. So, given how much success this strategy has provided this previously obscure federation, why don't WWE try taking a few pages from DDT's ludicrous book?
In this modern world where we are constantly staring at our phones and yearning for new, interesting content to absorb with our ever-decreasing attention spans, an almost meaningless title that can be challenged for at any time in any place by almost anyone has more entertainment value than ever before. Now I'm not saying they need to go full DDT and start handing their gold to monkeys and inanimate objects, but perhaps WWE could borrow a thing or two from this small Japanese promotion. With such a dominant presence on social media, something which the company are more than happy to brag about, WWE are in the perfect position to bring a 24/7 title back to their trophy case.
Now, considering the Internet Championship has already been claimed by Mr Woo Woo Woo, I'm Too Good to be Teamed-up with an Overgrown Human Chipmunk like Mojo Rawley and You Know It, Zack Ryder, WWE need to dedicate their brand new potential belt to their vast streaming service that they have so much pride and money invested in.
The gimmick would be that the belt could only be defended through WWE Network-exclusive programming, in or out of the ring, meaning that it would be the first title ever to be excluded from any television show, pay-per-view, or live event. The title wouldn't have to mean a thing; it's simply just a bit of fun. In fact, it doesn't even have to make appearances or ever be mentioned on WWE television. It would be a way of showing off their own streaming service that they're oh so proud of, whilst giving potential viewers reason to subscribe and watch, or at the very least follow the championship antics through social media. It could take all of those whacky, thoroughly entertaining moments involving the Hardcore Championship, but without, you know, the actual hardcore part. Keep the craziness intact, whilst still being suitable for a PG audience.
Given that the belt could appear on any WWE Network programming, from NXT to Table for 3, viewers would never know where or when it would pop up on their screens. Imagine tuning in to an episode of Talking Smack, and in the middle of a typical post-Smackdown conversation, two superstars suddenly brawl their way into the background, and spill onto the set. Renee Young and Daniel Bryan have to evacuate as a title change occurs on top of the show's signature glass table, and then the presenting duo begin to interview the newly crowned champion, until they are suddenly interrupted by yet another new challenger that attacks from behind, and we once again witness the WWE Network Championship change hands, all within five minutes. It would add an element of surprise and unpredictability to everything you watch on the streaming service, with entertaining and erratic results.
Not only would the belt be a benefit for the viewers at home, it would also be an opportunity for undercard talent not involved in television feuds to do something, and a way to entertain. A small run with a hot potato, network-exclusive championship may not sound like a good way to reinvigorate a career, but you only have to look at the career of Crash Holly to see how much success a brief yet memorable run with a 24/7 title can be. His time with the hardcore belt created so many wonderful memories in such a short amount of time that still stay in many Attitude Era fans' hearts. Now I'm not saying that this potential belt would be looked back upon as fondly as it's 24/7 predecessor, but who knows what a mini championship run could do for underappreciated talents such as Tyler Breeze or Drew Gulak; it could even be a great way to bring in a lower-card NXT talent, or even a random jobber that's just hanging about backstage.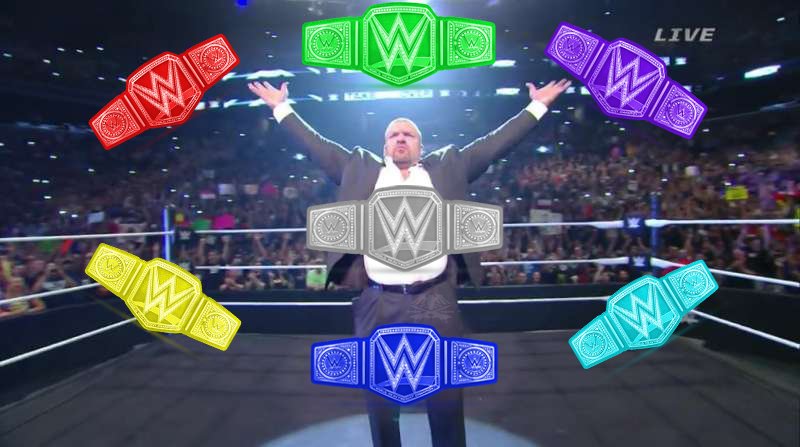 As far as the belt's design goes, WWE creative could stick with modern tradition and create yet another shimmering colour-swapped WWE logo belt with interchangeable sideplates, but personally, I'd love to see them go down a more alternative route as a homage to the Hardcore Championship of old by having the cost of materials used to create the belt collectively adding up to $9.99, the price of a monthly WWE Network subscription. A cheap belt held together by sticky tape would not only be a quite hilarious contrast in the corporate world of Vinny Mac, but it would also let viewers instantly know that this isn't an accolade to be taken seriously, it's simply a bit of fun.
Wrestling is at its best when it is unpredictable, and although there won't exactly be that much wrestling in these potential WWE Network Championship matches, and there are already so many championships in WWE these days that they're starting to resemble chaos emeralds, perhaps there could be room for just one more belt to help keep us fans guessing, and to keep us shelling out $9.99 every month.
What do you think about a WWE Network Championship? Let me know in a comment below or tweet me @HairyWrestling.