Back in 2013, I was considerably less hairy, and a freshly single fan of the graps. To my delight, I started chatting casually to a beautiful woman who also just happened to like wrestling. She attended all of these cool indie shows, and talked about all these wrestlers I'd never heard of. At the time, I had barely dipped my toe into the re-emerging British scene, so in order to 'impress' someone I had absolutely no chance in hell with, I decided to educate myself a little. Out of all of the wrestlers she talked about, one name seemed to be mentioned again and again and again, so obviously I had to see what all of the fuss was about. His name was Kris Travis: he was handsome, had a fantastic physique, tattoos on his chest, and the girl I fancied was in love with him, so obviously, I fucking hated him. But over time, as we inevitably drifted further and further apart, and my interest in the British wrestling scene began to flower, my unjust hatred towards Travis subsided, and I began to realise how talented he was.
Travis was one of the first few wrestlers that peaked my interest in promotions around the country that were suddenly bursting with popularity. What really struck me about the young rising star was how crisp he was between the ropes; almost every move seem to be perfectly executed, making his matches a delight to watch. The Shooting Star was known for his consistency in the ring, and as such, put on plenty of memorable bouts against a variety of opponents, including Chris Masters (who credited Travis with being a part of his three greatest ever matches), long-time rival and part-wrestling cyborg El Ligero (I swear that man isn't human), and the brilliant Marty Scurll, both before and after he adopted his villainous ways. Not only was Travis a talented singles star, he was also part of the underrated Project Ego, with the hilarious Martin Kirby.
It seemed as though Travis' star was finally on the rise in 2014, as he took part in the second series of TNA's British Bootcamp, along with some of the biggest and best talents on the British scene. The judges were initially impressed by Kris' physique and charisma, and after an amazing performance against eventual winner Mark Andrews in the second round, the man in pink secured a place in the finals. Unfortunately though, despite clearly having a more than favourable chance of bagging a TNA contract, Travis had to pull out of the competition after receiving some truly devastating news.
In 2014, after experiencing recurring stomach pains, Kris sought medical attention. Sadly for him, Travis' doctor refused to acknowledge his condition, as he believed that Kris was lying in order to receive free prescription painkillers, something which was regular practice in the business years ago. Travis' pains continued to gradually get worse, yet no matter how much he pursued the medical attention he so desperately needed, his doctor still denied him treatment. Eventually, in September, long after his pains began, Kris' abdomen was finally scanned, where life-threatening cancerous tumours were discovered inside his stomach. The doctor that denied Kris treatment has since retired from the medical profession in order to avoid being held accountable for what happened. Kris' battles in the ring seemed to be over, as his battle with cancer was just beginning.
After having 70% of his stomach removed, enduring 6 gruelling months of chemotherapy, and being told by doctors that he would never wrestle again, the shooting star began preparing for the unthinkable – an in-ring return. In August 2015, we witnessed just that; Kris Travis was cancer-free, and performing in rings across the country once again. If not for the scar on his stomach, it would be impossible to tell the ordeal he had gone through, as his in-ring abilities were just as great as ever. Travis managed to capture the SWE Tag Team Championships alongside Project Ego partner Martin Kirby, and even defeated former WWE competitor Drew Galloway for the ICW World Heavyweight Championship. However, Travis' return to glory was short-lived, as just a month later, he discovered that his illness had returned, and his wrestling dream was over.
On March 31st 2016, just one month after marrying his long-time girlfriend, Kris Travis died following a lengthy battle with stomach cancer. The wrestling world wept as tributes began to pour in. Everyone from Travis' nearest and dearest friends, to some of the business' biggest stars, like Chris Jericho and The Young Bucks, honoured their fellow competitor. Tribute shows began happening around the country, fundraisers for Cavendish Cancer Care were everywhere, and wrestlers in promotions around the globe were donning K.T armbands in remembrance of their fallen friend. Will Ospreay even wore pink tights during the Best of the Super Juniors tournament, and dedicated his historic win to his friend. The biggest tribute of them all though is still yet to happen.
Since 2015, at their annual Hall of Fame ceremony, WWE has given The Warrior Award to recipients who they believe embody the spirit of the deceased Ultimate Warrior. So far, the first two recipients of this award have both suffered and battled with cancer, one who was successful, and sadly, one who was unsuccessful. It seems as though WWE are using this high profile award in order to both raise awareness and funds for cancer charities and victims, so when Travis' tragic death was announced last year, fans began campaigning for the biggest wrestling company in the world to honour this fallen warrior, and for very good reason.
Kris Travis is the perfect recipient for this award as his story is inspirational, tragic, and startling. Despite clearly being in amazing physical condition during the peak of his life and career, Kris was still victim to cancer. Travis' gruelling battle is a stark reminder that nobody is immune to this cruel disease, regardless of how healthy they may seem, and that is a reminder the world regularly needs. If seeing an active wrestler, complete with pecs and six pack, die from cancer inspires just one person to get themselves checked, then honouring Kris with this award would all be worthwhile.
If that wasn't enough to deserve this honour, Kris' attitude towards his illness during recovery was the definition of a warrior. Having 70% of your stomach removed, and 6 months of chemotherapy would be enough to slow down almost everyone, but Kris still found the strength to raise funds for the charities that helped him during his ordeal, and of course, he achieved the seemingly impossible by eventually returning to the ring after months of hard work. If that isn't a true testament to the spirit of a warrior, I don't know what is.
Given that he's faced some of the biggest names currently in WWE, including Kevin Owens, Finn Balor (who paid tribute to Kris at NXT Takeover Dallas), and Neville, as well as the company growing ties with independent companies and the UK scene, Kris has multiple links to the company already, with plenty of his peers there to pay tribute to him, and tell the world of his story. When Noam Dar made his Raw debut back in October, he proudly wore his KT armband for the world to see, so clearly WWE aren't against paying tribute to this once potential star.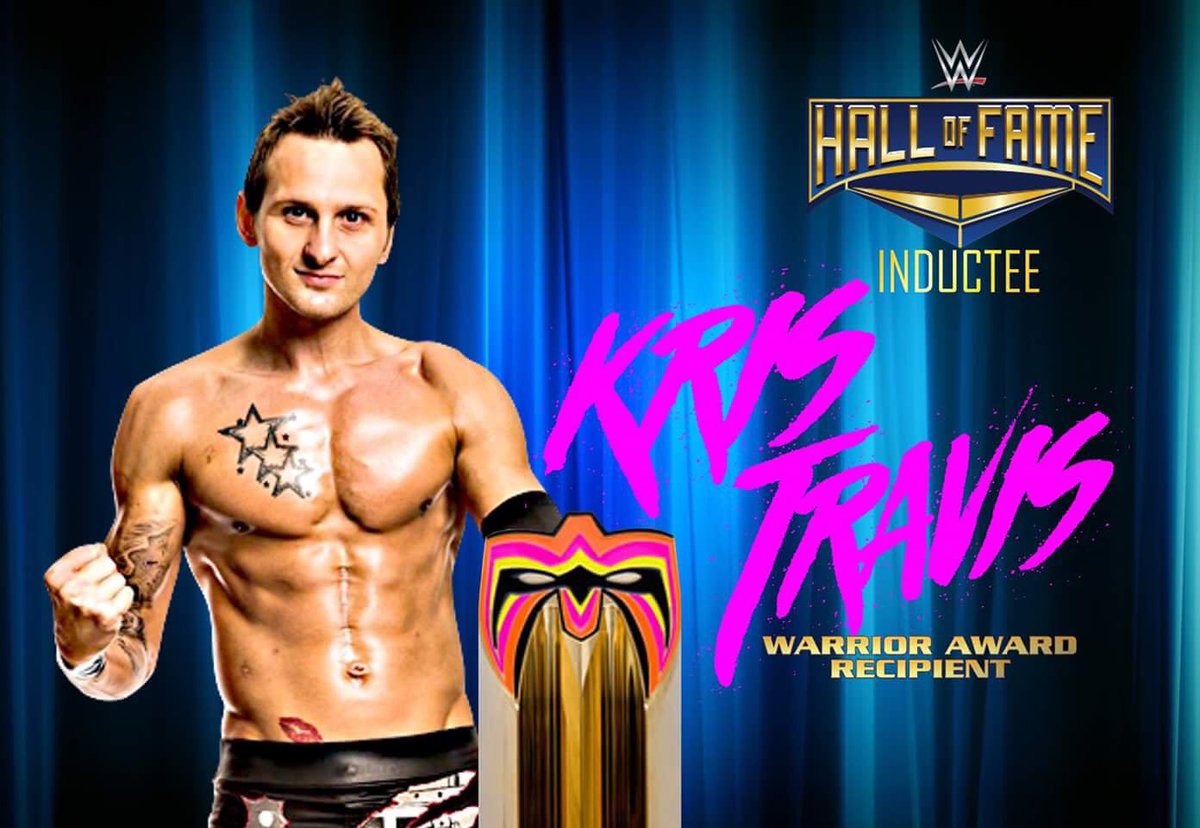 The WWE Hall of Fame ceremony this year will take place on the one year anniversary of Kris Travis' death, so placing his name in the history books, and enlightening millions around the world about his emotional, moving story would be the ideal tribute. Of course, there are many other candidates around the world worthy of this honour, and if it were to be given to somebody else this year, I'm sure they would be more than deserving of it, yet by dedicating this award to one of their own 365 days after his death, it would the perfect way for the biggest wrestling company in the world to honour the memory of a fallen warrior that was never given the chance to reach the heights he deserved to. R.I.P Kris Travis.
Follow me on Twitter for more wrestling talk – @hairywrestling