Over the years, many have come and gone in the wrestling industry that have influenced and inspired those watching at home, and even their own peers. But for every Gorgeous George, Superstar Billy Graham, and Stone Cold Steve Austin, there are plenty of unsung heroes that have had a direct impact on many both in and out of sports entertainment. So I'm taking a look at those that have had a huge effect on so many fans and wrestlers alike, yet simply don't get the recognition they deserve for it. Here are the Top 10 Influential Wrestlers That Don't Get the Recognition they Deserve.
Molly Holly
Molly Holly is one of the most underrated women to ever compete in WWE. She could do things no other woman in the company at the time could do, and showed viewers around the world that you could go far in the wrestling business based on your technical abilities, rather than just relying on your looks. During her time in WWE, Molly was battling an eating disorder and food addiction, yet this never showed on-screen. Molly would eventually overcome these hurdles, and is an inspiration to anyone battling with similar situations. Also, Molly Holly is genuinely one of the nicest people in all of wrestling. To this day, she still participates in a wonderful amount of volunteer and charity work, and as Beth Phoenix stated in her Hall of Fame speech, Molly actually paid for her wrestling training upfront without telling her or without wanting any credit for it, purely because she thought she deserved it. Molly Holly has inspired plenty of women inside the ring, and hopefully she has inspired plenty of people outside it as well.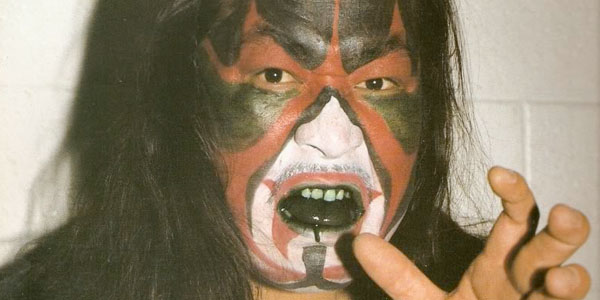 The Great Kabuki
The Great Kabuki was a true innovator during the early 80s. He was one of the first Japanese wrestlers to come over to America and make a big impression with his silent, mysterious character that erupted into a mad, physical frenzy between the ropes. His style and appearance was unheard of at this time in the West, and because of Kabuki, it allowed many other Japanese stars to head over to the likes of WCCW as well. Kabuki's biggest influence on wrestling however has to be the introduction of the green mist, otherwise known as Asian mist. Kabuki was the first wrestler to spew this foreign, green fluid right into his opponents' faces, and many wrestlers, such as Tajiri, Gangrel, Bushi, and most famously, The Great Muta, have adopted it ever since. In fact, without Kabuki, there would be no Great Muta, as Keiji Mutoh's world-known character was actually introduced in WCW as Kabuki's kayfabe son. So without Kabuki, we wouldn't have one of the most legendary names in Japanese wrestling, and for that, he deserves recognition.
Hayabusa
The sadly now deceased Hayabusa was a true innovator in the high-flying style. The creator of the Phoenix Splash was doing some truly revolutionary moves during the 1990s, and inspired a whole generation of high-fliers and risk-takers. He was one of the first to mix hair-raising aerial moves with brutal hardcore action, using barbed wire and explosives on a regular basis. His in-ring antics were practically a catalogue of ideas for the entire ECW roster, and if he had competed more in the Philadelphia-based promotions, I'm sure his influence today would be much greater. In 2001, a botched springboard moonsault caused Hayabusa to land on his head, which caused him to crack two vertebrae, and was paralysed for the rest of his life. While his time in the ring is what is most inspiring about this Japanese legend, it is also the move that ended his fantastic career that serves as a reminder to all competitors to be aware of the risks they are taking inside those ropes.
Mikey Whipwreck
One day before an ECW show, Paul Heyman saw one of the kids on the ring crew taking some almighty bumps in the ring, and thought, "Boy, I bet people would love to see him getting beaten up." So that's what he did, he trained this diehard fan barely in his 20s, threw him out in the middle of that bingo hall, and thus, Mikey Whipwreck was born. Every match, Mikey's opponent would pulverise him mercilessly, without poor Mikey being able to get in a single ounce of offense. He wasn't the biggest, the best looking, or the most athletic, but the ECW fans warmed to Whipwreck because of his heart and willingness to take punishment. Despite everything going against him, Mikey Whipwreck went on to be an ECW Champion, and even defeated Steve Austin during his stint in the company. Mikey showed people that you didn't have to have the gigantic Adonis body type that WWF were so fond of at the time to have success in wrestling. However, it's through his old adversary that Mikey had the biggest influence on the wrestling industry. Mikey Whipwreck is the inventor of the three-quarter facelock jawbreaker that he dubbed the Whippersnapper. Once his old rival Steve Austin arrived in WWF and became Stone Cold, he borrowed this move from Mikey, added a kick to it, called it the Stunner, and as a result, the most popular finisher in the history of wrestling was born. If it wasn't for Mikey, we wouldn't have all of those memorable moments of Austin chugging a few Stevewisers and throwing a few stunners, and for that, I thank him.
Dutch Mantell
Otherwise known as Zeb Coulter, Dutch Mantell has been involved in wrestling for 45 years. Going from an in-ring competitor in various southern promotions, to a commentator, a high profile manager, booker and creative contributor, Mantell has truly influenced all aspects of the industry. Over the years, many have credited Mantell with greatly helping their careers, especially in their early years, as he was always willing to give as much advice as possible from his wealth of knowledge. He helped shape some of the biggest superstars we've ever seen, including Kane, Undertaker, The Ultimate Warrior, and Sting. Oh, and he's the one who changed Steve Williams into Steve Austin, so that's something.
Dan Severn
No man could pull off a dad tash like Dan Severn. He was a legit badass, and had the facial hair to prove it: Alternate for the US Olympic wrestling team? Check. Black belt in Judo and Jujitsu? Check. Only triple crown winner in UFC history and Hall of Famer? Check. Two time NWA World Champion and former WWF competitor? Check and check. Not only is he one of the best combat athletes of all time, he's also one of the most underrated members of the WWF roster during the 1990s. Severn was the first high-profile MMA star in the West to bridge the gap between UFC and professional wrestling. Despite his relatively short run in the company, seeing a credible fighter full of deadly combat skills in WWF inspired future stars like Taz, Kurt Angle, Brock Lesnar, and basically any wrestler that utilises MMA inspired moves in their arsenal. Severn broke the mould by being one of the first crossover combat athletes, and showed that your accomplishments outside of WWE aren't something to hide, but something to embrace.
Fit Finlay
When one of the best technical wrestlers in the world has a career spanning  over 30 years, he's bound to influence a few people here and there. From viewers of World of Sport in the UK during the 80s, to his fellow wrestlers that admired his superior wrestling ability during his time touring Europe, to his stints in WCW and WWE, and of course, the dozens of people he has trained in his time, including CM Punk, Randy Orton, Trish Stratus, Kurt Angle, and John Cena – Fit Finlay has had a huge influence on this wonderful business, and continues to do so to this day as a backstage agent in WWE.
William Regal
William Regal is always credited as being one of the most underrated wrestlers the world has ever seen, so OF COURSE his influence on the business is underrated also. Now a trainer and one of the head talent recruiters for NXT, Regal has a direct impact on all new superstars in WWE, and lends his decades of experiences to the benefit of everyone at the performance centre. However, his influence dates way back before NXT ever started. For a start, he's responsible for training some of the best wrestlers of the last decade, such as CM Punk, Daniel Bryan, Johnny Gargano, Matt Cross, Brian Kendrick, Chris Hero, and Samoa Joe. Not only that, Regal's in-ring prowess was a major source of inspiration for budding young technicians looking to learn the craft from the very best in the world. What's more, Regal has had documented problems with substance and alcohol abuse throughout his career, but despite this, managed to conquer his demons and achieve great success – an inspirational story for anyone, wrestling fan or otherwise.
2. El Santo
If this were a list of the most underrated influential wrestlers in Mexico, El Santo would not even come close to appearing on it. The man was a bona fide megastar in his home country from the 1940s right up until his death in 1984, yet in the wider world of wrestling, the Mexican legend simply does not get the credit he deserves. El Santo is credited as being solely responsible for popularising wrestling in his home country. This masked symbol of justice was one of the first of its kind, and captured the hearts of an entire nation. Simply put, El Santo is the father of Lucha Libre, and his popularity and mainstream appeal influenced wrestlers, bookers and promoters around the world for years to come. Santo became one of the biggest celebrities in all of Mexico, starring in his own comic book, and over 30 starring feature films, including the fantastically named Santo vs. the Martian Invasion and Santo vs. the Diabolical Brain. He truly was the first huge crossover star in wrestling, paving the way for The Rock and Hulk Hogan, and showed the world just how popular one man in a mask could be.
Honourable Mentions
Lance Storm – An all-round fantastic technical wrestler and trainer that's inspired many of today's generation of wrestlers.
John Laurinaitus – Big Johnny invented The Ace Crusher, that would go on to be adopted by Randy Orton, DDP, amongst others. Given how much impact this one move had on finishers coming from 'outta nowhere', the former Dynamic Dude deserves an honourable mention.
Tatsumi Fujinami – I don't know how underrated I can call this Japanese legend, as he is a WWE Hall of Famer, but he did invent 3 major moves used often in wrestling, and brought the NWA title to NJPW, something that certainly inspired a lot of people.
Kevin Dunn – Not included purely because he isn't a wrestler, but Kevin Dunn has been producing WWE television for over twenty years, which will no doubt have inspired anyone that's attempted to create their own wrestling television or pay-per-view show in the last couple of decades.
Petey Williams – The master of the Canadian Destroyer was pretty much the first internet darling. His incredible finisher was plastered all over the web, and not only inspired a new generation of modern wrestlers to do insane maneuvers, but also showed them how to get people talking in the 21st century.
Art Barr – If Art Barr didn't tragically die at just 28 years old, this man would have inspired so many more people due to his fantastic wrestling ability.
X-Pac
While the only thing he really gets credited for these days is for creating 'X-Pac Heat', Sean Waltman is one of the most influential wrestlers of all time, yet he never gets the recognition he deserves. In the early 1990s, WWF was truly the land of the giants. Even though he stood at 6 foot tall, the young Waltman was considered to be tiny by industry standards at the time. In May 1993, 20 year old Waltman made his debut on Raw as The Kamikaze Kid, and for several weeks, he jobbed-out to several stars far larger than him, as was to be expected at the time. However, in that very same month, Waltman shocked the world with a huge upset victory over Razor Ramon on Monday Night Raw, and he changed the wrestling industry for 'undersized' competitors for years to come. To see a man of that stature and of such a young age to be thrust into a spotlight as big as that was practically unheard of, and inspirational to any young hopefuls watching.
Despite his size, X-Pac would go on to win multiple championships in WWF and WCW, both singles and tag team, as well as being the first WCW talent to make a high profile switch to WWF during the Monday Night Wars, and the only man to be a member of the NWO, D-X, and of course, The Kliq. Young, undersized kids around the globe saw Pac compete and instantly thought, "If he can do it, so can I." Dozens of modern competitors, including The Young Bucks and Marty Scurll, have credited X-Pac with being one of the main reasons they were inspired to get into wrestling, and without seeing him being so successful in such a high profile company, some of the fantastic stars we have today may never have felt like they would be able to get into this business. Even though X-Pac really isn't undersized by today's standards, he truly is a pioneer in wrestling, and hopefully, as more and more of the people he's influenced become more and more successful, Waltman will one day be given the credit he truly deserves.