We're now one year removed from the 2016 brand split. Because of this monumental shift within the realms of WWE, we've seen some highs, we've seen some lows, and we've seen absolute atrocities like The House of Horrors (let's never speak of it again). But although some have suffered because of the brand split, many superstars have benefited massively from the segregation of the red and blue shows – but who's gained the most from it in the last twelve months? Here are the Top 10 Superstars Who Have Benefited the Most from the WWE Brand Split.
Curt Hawkins
It's time to face the facts! If the brand split never happened, I think it's pretty fair to say that Curt Hawkins wouldn't be on the WWE payroll right now. While I've always thought the former Brian Myers is very talented and has always been underutilised, it's clear that his current employers don't really see him as much more than a jobber to the stars. Nevertheless though, Curt Hawkins is still on television on an almost weekly basis, with a good amount of mic time whenever he makes an appearance. Hawkins has to face the fact that he hasn't won a single time since he made his return to WWE, and a sudden big push looks rather unlikely at this point, but as Curt once said himself, if you're not in the company to begin with, you'll never get to where you want to be.
The Miz
Unlike most of the other entries on this list, The Miz has consistently been on WWE television for well over a decade now, with much success along the way, including a run as WWE Champion. But thanks to the brand split, The Miz has been able to do the best work of his career. On an early episode of the sadly now cancelled Talking Smack, The Miz cut one of the greatest, most passionate, and most genuine promos of the last decade. He set the internet on fire, and fans started realising just how great he was. Even I was surprised by how much I was enjoying the a-lister's work, to the point where I had to write an entire article about how Miz had completely changed my opinion of him. By being a part of Smackdown and Talking Smack, Miz was given the time and spotlight to show off just how great he had become. Having him feud with general manager Daniel Bryan was a stroke of genius as Miz would still carry on the rivalry even when he was feuding with other wrestlers. Even to this day, despite the fact he's on Raw, Miz still mocks Bryan by using his signature Yes Kicks. Perhaps the talent was there all along, but we can thank the brand split for giving us all the chance to witness it.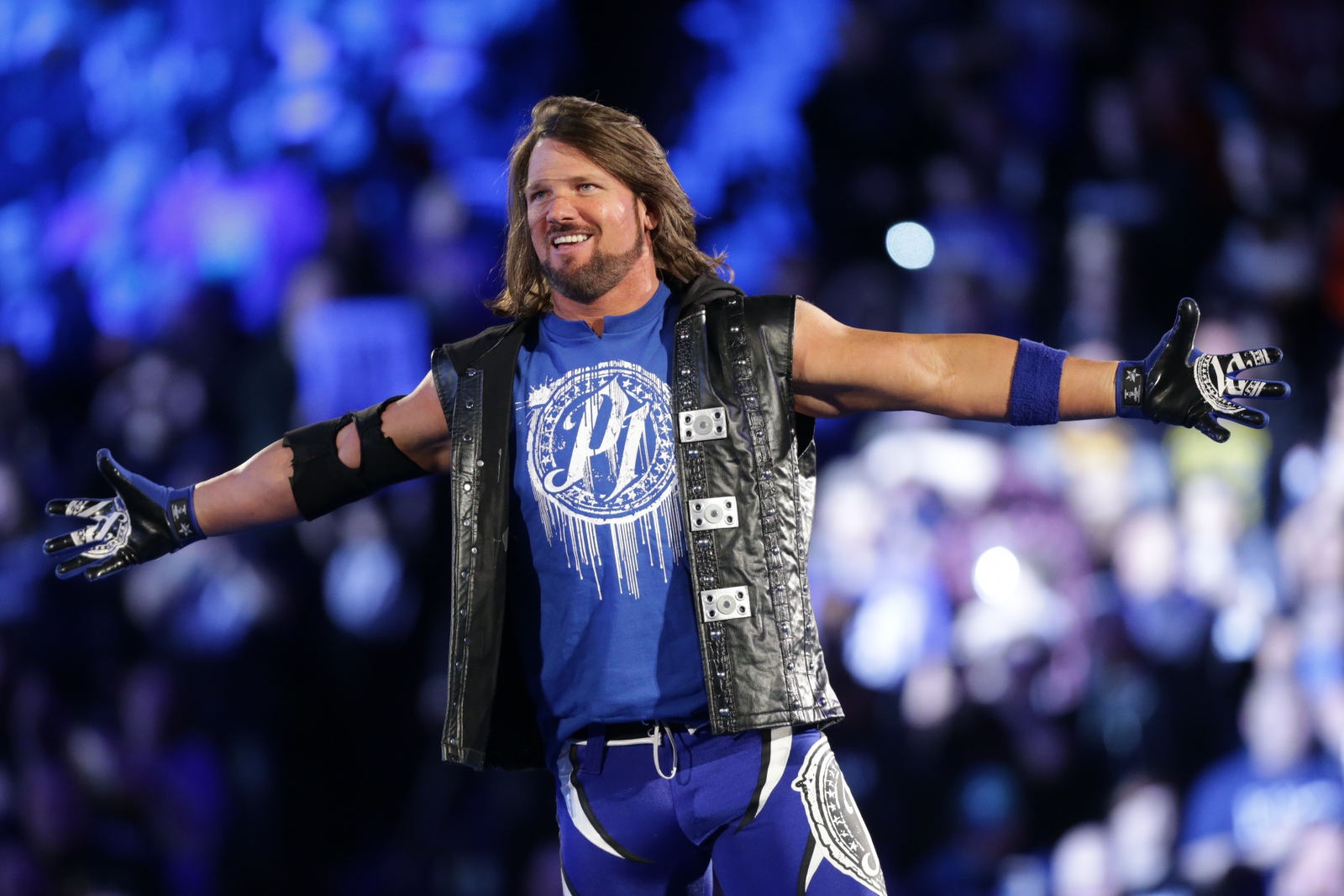 8.AJ Styles
When AJ Styles debuted at the 2016 Royal Rumble, the reaction he received was thunderous. He quickly became one of the company's most popular main event stars, and had some incredible showings in a couple of WWE Championship PPV matches. However, the question still remained, would Vinny Mac be prepared to allow the former face of TNA become his sole world champion? Styles' wrestling past could have certainly held him back from reaching the very top of the mountain, but luckily for him, the mountain split in two. It's hard to say whether AJ Styles would have ever become a world champion in WWE if there was only one world title up-for-grabs, but I'm certain that by having separate titles for both brands certainly made it easier for Vince to pull the trigger on the former Bullet Club leader. If we have the brand split to thank for AJ Styles' run as WWE Champion, then we all have to agree it was a phenomenal decision.
Naomi
It's hard to believe that Naomi has been with WWE since 2009, and a part of the main roster since the beginning of 2012. Before she started glowing, Naomi didn't really make much of an impact other than being a dancer for Brodus Clay. In 2015, with a new attitude and flashing pair of boots, she began to show signs of promise, but was still not close to reaching that main event level. But luckily for this former Funkadactyl, when the brand split came along and she was drafted to Smackdown, and given much more time to shine. She exploded onto the blue brand with an incredible new entrance, glow-in-the-dark ring gear, and a new-found confidence. After months of dazzling audiences with her emphatic attitude, Naomi was finally given the chance to glow as Smackdown Women's Champion, and since she's now the longest reigning champ in the title's history, and the fact that they've actually customised her title to glow like she does, it seems as though WWE are very high on this former Team B.A.D member. If it wasn't for the brand split, Naomi would have most likely been lost behind the likes of Charlotte and Sasha Banks, without being given the chance to show how popular she could really be.
6. Heath Slater and Rhyno
One of the highlights of the brand split was watching the only undrafted superstar, Heath Slater, try for weeks on both shows to earn himself a contract for the sake of his many children. It was a case of a highly underutilised talent being given plenty of airtime to show what he could do, and it was entertaining as hell. Along the way, Heath had to watch returning wrestlers earn the contracts he was trying to capture, but it was actually one of those re-signed stars that helped Heath get his job back. Rhyno made a surprise appearance on an episode of Smackdown, and earned himself a place on the roster after beating Heath Slater in very quick succession. When a tournament was announced to crown the first-ever Smackdown Tag Team Champions, Rhyno turned to his ginger-haired advisory and formed an alliance. Surprisingly, this strange odd couple proved to be quite successful, and made for some of the most entertaining WWE television of 2016. Heath took us all on a tour around his trailer whilst Rhyno just sat at a table and eat crackers with cheese whiz – it was beautiful. When the first Smackdown-exclusive PPV of the modern era rolled around, Heath Slater and Rhyno shocked the world by beating The Usos and becoming the first-ever WWE Smackdown Tag Team Champions. Not only is the brand split responsible for giving Rhyno another chance on WWE's main roster, it's also accountable for making them both a part of history.
5. The Entire Cruiserweight Division
The Cruiserweight Classic was one of the best things to happen in wrestling in 2016. Week after week we got to see incredible talents put on captivating matches – it was truly must-see television. Part way through the tournament, it was announced that the cruiserweights would be making their way to Raw as part of the newly-split roster. As incredibly talented as this whole division is, the truth remains that without the brand split and the need for more talent to fill the airtime, the majority of this division would not have been signed. Sure, overtime most of them would make their way through NXT, but for some, that could have taken years. Instead, they were all immediately thrust onto WWE's flagship show, and a few months later, their own WWE Network show. Obviously this division hasn't been utilised as best as it could have in the past year, but they are all still getting the chance to show what they can do on a weekly basis as a part of the biggest wrestling company in the world, and they have the brand split to thank for that.
4. Neville
Speaking of cruiserweights, it's time to address the king. Back in his NXT days, Neville was a firm fan-favourite. Whilst not exactly known for his personality or character, Neville didn't really need to wow the fans on the mic as his unbelievable athleticism inside the ring spoke for itself. His ability to defy gravity and perform ridiculous feats of strength made him a bonafide superstar with the NXT faithful. The night after Wrestlemania 31, Neville made his main roster debut in impressive fashion. At first, it seemed as though this Newcastle native's momentum was going to continue from his run in NXT, yet sadly after just a month or so, the man that gravity forgot quickly sank to the bottom of the card. For the next year and a half, Neville was placed in forgettable feuds, denied TV time on various occasions, and unfortunately stricken by injury. It seemed as though he couldn't find his footing as part of the main roster, despite still being beloved by fans. That is until December 2016 rolled around.
At Roadblock: End of the Line, Neville emerged following a WWE Cruiserweight Championship bout, and shockingly destroyed everybody that was between the ropes. Sporting a new look as well as a new, vicious attitude, Neville climbed to the top of the division within just one month, capturing the title at Royal Rumble in January. In my opinion, Neville's heel turn and run with the championship has saved his WWE career. I have never seen somebody improve their mic skills and character work as quickly and as dramatically as Neville has since he unleashed his villainous side. Because of his dominance in the Cruiserweight Division, which we have established wouldn't exist without the brand split, Neville has proven that not only is he one of the best between the ropes, he surprised us all by showing he's one of the best on the microphone as well. Neville is a ready-made main eventer, and if he doesn't get a chance at a world heavyweight championship once his run in this division is over, then WWE do not realise what an incredible talent they have in their ranks.
3. Alexa Bliss
NXT Call-ups tend to go one of two ways: either the talent carries on with the same momentum they had in NXT, or they lose it all and quickly descend to the bottom of the card – Alexa Bliss is the exception to that rule. Back in NXT, Alexa Bliss wasn't exactly the talk of the women's division. For a time, she managed former NXT Tag Team Champions Blake and Murphy, before breaking out on her own with little fanfair. She was never portrayed as a potential main eventer, more like somebody for others to beat on their way to the top. However, once she was drafted to Smackdown in July 2016, all of that changed. She quickly showed how world-class her mic skills are, captured everyone with her cosplay-inspired outfits, and became the gif-makers' sweetheart with her extremely expressive face. Unlike anybody else before her, Alexa Bliss came up from NXT and blew everyone away.
Nobody has improved and broken-out in their first year on the main roster compared to their time in NXT like Alexa Bliss has. For someone who was barely talked about to become the first-ever two-time Smackdown Women's Champion, the first-ever person to hold both the Smackdown and Raw Women's Championship, and to seemingly become the present and future of WWE's female talent, all within a year, that is simply amazing. If it wasn't for the brand split last year, the women's division wouldn't have stretched so thin on both brands, so although she would have most likely been called-up at some point, she wouldn't have been placed into the title picture as quickly as she was on Smackdown. The brand split has allowed almost every woman in WWE to show just what they can do, and luckily for us viewers, Alexa Bliss took that chance and used it to transform herself into a goddess.
2. James Ellsworth
In the 2016 brand split, Braun Strowman was separated from his Wyatt Family brethren and forced to join the Raw roster alone. On July 25th, Strowman made his first appearance as a solo wrestler, sporting a new look, and new theme music (BRRAAUUUUNNNN!). But who was the first opponent of the monster among men going to be? An established star to instantly give the gigantic rookie a rush of momentum? Maybe even just a lower-card star that was recognisable to the casual WWE viewer to show that Braun is a force not to be reckoned with? No, his first opponent was a strange looking man with no chin and a body worse than your dad's called James Ellsworth. He had two fists and a fighting chance, but that was nowhere near enough to overcome the 300+ pounder. Despite being completely dominated in his Raw debut, Ellsworth quickly became beloved by the wrestling world. The internet exploded with memes and photos, and even Vince McMahon and Chris Jericho were singing his praises backstage. Everyone was talking about James Ellsworth, and I was no different. We've all seen plenty of local competitors come and go over the years, but Ellsworth just seemed to stick with us all. So much so that a month and a half later, on September 13th, he made an appearance on Smackdown as AJ Styles' surprise tag team partner, and the whole wrestling world cheered with joy.
What started as a one-off appearance quickly turned into two, then three, until to everyone's surprise, he suddenly became involved in a main-event angle with AJ Styles and Dean Ambrose. Within just a few months, James Ellsworth went from a complete nobody wrestling and promoting small indie promotions in Maryland, to a full-time WWE contracted performer, involved in PPV main-events, and WWE Championship matches. He has his own t-shirt and now even his own action figure, something which nobody in the world could have predicted. No matter what position he's been put in, he's played that character perfectly, whether that be the cowering underdog that's just as shocked to be there as everyone watching at home, to an overconfident fool blinded by new-found success and fame, to his current role as Carmella's right-hand man dressed head-to-toe in terrible, early 2000s hip hop fashion. Although some may be sick of seeing this chinless man on their screens, and feel as though the Ellsworth joke has gone too far, it can't be denied that James Ellsworth has put everything in to making this dream come true. Whether you like it or not, Ellsworth has gone further than anyone could have ever predicted, and it's all down to his own work. To this day, my most-read article by far is a piece I wrote last year about the man in question, and it shows that even if you don't like him, Ellsworth gets people talking and captures their attention.
If it wasn't for the brand split, and the subsequent shortage of talent on each brand, Braun may have not needed to face local competitors, he may not even have been taken away from The Wyatt Family. Even if the split didn't happen and he still ended up facing Ellsworth, there is no chance in hell that WWE would give a complete unknown a chance to shine on their flagship shows when they had a full roster of stars all competing on them both. Regardless of if you think he deserves it or not, without the brand split, James Ellsworth would never have gotten to climb up the ladder of WWE, and the chance to show that in his own words, any man with two hands has a fighting chance.
Honourable Mentions
Breezeango – With more air-time and a long-overdue tag team title shot, these two underutilised talents are now one of the most entertaining things on WWE television.
Carmella – The final draft pick in 2016 has achieved a lot in the past year, including becoming the first-ever Miss Money in the Bank, something which would probably have never happened if it wasn't for the brand split.
The Singh Brothers – First they got brought in as part of the cruiserweight division, and now they're part of main-event, world championship matches, both thanks to the brand split.
1.Jinder Mahal
Nobody in the world could have predicted that this would happen in 2017… or any other year for that matter. In the summer of 2014, Jinder Mahal was released from WWE after a few years of forgettable matches, very little victories, and a burial thanks to his 3MB musical career. After wrestling in a few independent promotions for a couple of years, and cleaning up his life after battling with alcohol addiction, Jinder made his return to WWE on the July 27th 2016 edition of Raw, following a win against Heath Slater. WWE was in need of lower-card talent to fill in the gaps following the brand split, and they knew that they could count on Mahal to fulfil that role. For months, Mahal ate loss after loss, often in quickly fashion, without a single victory on a major show (excluding the night he made his return), and would only rarely receive the W on episodes of Main Event and Superstars. But overtime, we all saw a transformation in Mahal – his body started getting leaner and more muscular, and although he was still on the losing end, he was facing more upper-card talents as the weeks went by. Come Wrestlemania, Mahal actually made it down to the final two of the Andre the Giant Memorial Battle Royal, and it seemed as though things were on the up for the former man of peace, but still, nobody could have predicted what would happen next…
On April 18th, in only his second victory on a flagship television show since re-joining the company back in July, Jinder Mahal became the number one contender to the prestigious WWE Championship, in one of the most shocking victories in the company's history… but the biggest shock of them all happened the following month. At Backlash, the Modern Day Maharaja did the unthinkable, and captured his first world heavyweight championship, and still holds it to this day.
Out of everybody on the WWE roster, nobody owes more to the brand split than Jinder Mahal. Thanks to this separation of talent, his struggling career that very few really cared about was rescued, and then skyrocketed into heights beyond what anybody could have ever imagined. If the brand split didn't happen, Mahal would most likely not even be a part of WWE right now, let alone anywhere near the WWE Championship. It really is true what they say: anything can happen in WWE.