On August 25th 2016, I started this blog as a way of expressing my views and knowledge on my biggest love in life – wrestling. It has dominated my life for as long as I can remember, in the last twelve months more so than ever, so for my one year anniversary, I am going to explain exactly why I spend hours upon hours every single week watching and writing about this wonderful, crazy sport we all adore. Here is what wrestling means to me.
CLICK HERE FOR 100 REASONS WHY I LOVE PRO WRESTLING
In the late 1990s, back when I was 4 or 5 years old, I was running around my living room when I suddenly stopped in my tracks and began staring at the TV. A man dressed in pink and black stood in the middle of a strange looking structure on Channel 5. Thousands of people were surrounding him, watching every move. Once I saw this real life superhero in the middle of those red ropes, I was instantly hooked. I didn't know what it was, I didn't know what it was called, and I didn't know when it was on, but I knew I loved it.
Whenever I got the chance, I flicked frantically through the few channels we had in the hopes that I would see it once again, and on the rare occasion that I found what I was looking for, I couldn't turn my eyes away. I remember coming home once, and as soon as I entered the door, my dad shouted, "Quick! You're missing wrestling!" and I sprinted to the front room just in time to watch Too Cool perform their post-match dance, which in the early 2000s was the greatest thing ever.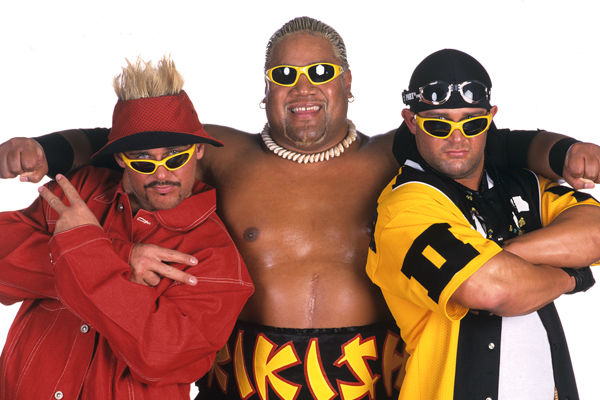 Now as the sight of Rikishi's gigantic Samoan backside wasn't on my television as often as I would have liked, I wasn't getting my wrestling fix on a regular basis. But luckily for me, a wonderful thing came into my life that satisfied my cravings – wrestling video games. The first moment I played WWF Smackdown 2: Know Your Role, I knew I had found something that would stick with me for the rest of my existence. Whether it was playing through season mode religiously, or choosing Scotty 2 Hotty with finishers maxed out just so I could spam The Worm repeatedly, I couldn't put that grey plastic controller down. Although I was denied my weekly dose of Raw and Smackdown, I still knew who most of the roster were, who I should cheer for, and who I should despise. I'd never seen Mr Ass on TV but I knew who he was because of WWF Smackdown on Playstation (and I also knew that he loved to love them and loved to kick them). I'd spend entire days on weekends and during summer holidays sat cross-legged on the floor in my pyjamas playing the PS2 Smackdown games. Literally from morning until night, my life was all about wrestling.
Signed polaroid of me with The Bushwhackers when I was 6 (wearing the purple headband) – I spent over an hour digging this one out for the first time in years so you better appreciate my cuteness
Wrestling quickly became my escape from everything. From the age of 4 until I was 12, my older brother beat me up on an almost daily basis. No matter how much I struggled, he would overpower me, pull me away from whatever I was doing, and inflict pain until he finally became bored. Although I knew that he had learnt how to punish me because of the moves he had seen on WWE television, it was ironically wrestling that also helped me escape from it. No matter how much he made me cry or how many bruises I had, I could go back to the WWE video games I was playing or the old WWF videos I was watching and escape from what had just happened. I know it is to blame for a lot of the pain I experienced throughout those years, yet without wrestling, I don't know how I could have gotten through it.
One Saturday morning in 2003, as I was wiping the fresh sleep from my eyes, I discovered something wonderful – WWE Smackdown was on Sky One, a channel I actually had! I couldn't believe it! I could finally sit and watch a full WWE show from start to finish every single week! My weekends were suddenly transformed by the likes of Kurt Angle, Brock Lesnar, Rey Mysterio, and the entire cruiserweight division. Yet out of all the blue brand grapplers, there was one that stood out above the rest – Eddie Guerrero. His cheeky smile, lying, cheating and stealing ways, and his absolutely beautiful Frog Splash captivated me. At No Way Out 2004, watching Eddie overcome The Beast to win his first WWE Championship filled me with emotions I'd never experienced before, and when he turned against his best friend, Rey Mysterio, a conflict erupted in my heart as I tried to decide whether Guerrero was still my hero or not.
One cold November afternoon in 2005, I walked onto the playground at lunch, and I was suddenly bombarded with the worst news of my life – my hero, Eddie Guerrero, had died. I denied it as much as I could, I'd seen him wrestle on Smackdown just days before so in my mind, there was no way he could have been dead. I waited all week long until finally Saturday came, I switched on my television at 10am to find a stage full of grown men, overcome with loss and emotion, donned in armbands emblazoned with the letters "EG", crying and mourning for the loss of their friend. The rumours were true, my hero was no more. Because of wrestling, I had my first taste of an idol, and sadly, it also gave me my first ever experience of losing somebody I cared about. I watched as the whole wrestling world wept over the death of a true legend, and I realised that it wasn't just me who Eddie was important to, it was millions of others too. Even twelve years on, we still talk about him all the time. We all still marvel at his incredible work, and of course, we all still miss him. In 2016, in tribute to my fallen hero, I wrote a poem called Eddie – it was the first time I'd ever written about a part of my life, and the response it received was overwhelming. It brought people to tears – someone even had the poem printed onto canvas as a gift for their boyfriend as they loved it so much. It warms my heart knowing that he wasn't just special to me, he was special to a lot of us, and I'm not the only one misses him.
As I grew older into my teenage years, the obsession never went away. All of my peers had grown out of it, telling me repeatedly that it's 'fake', but not me. I never went through that anti-wrestling phase. Even if I couldn't watch Raw or Smackdown, I would check the results on WWE.com each week, and I made sure to never miss a WWE PPV. Over the school holidays, I'd stay up until as late as 5am because I couldn't bear to take myself away from the ridiculously addictive GM Mode (please bring that back, 2K!). No matter how bad WWE got (I'm looking at you, 2007), my obsession never died down. In fact, it seems to have gotten more and more intense as the years have passed.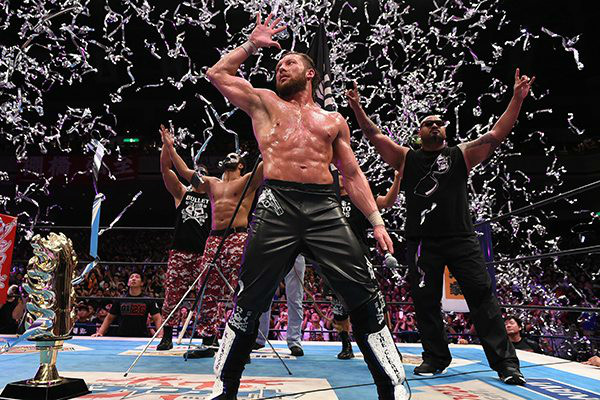 And as those years passed, my horizons broadened, and I realised that the house of Vinny Mac wasn't the only place I could get my grappling fix from. As I was flipping through channels one day, I came across a strange wrestling show I'd never heard of, and it wasn't WWE! There was a man dressed like a Shark stood inside a ring with six sides – I was intrigued. When I heard Hulk Hogan was going over to this promotion, I decided to give it a chance. Admittedly it wasn't any competition compared to WWE, but it was more wrestling for me to watch, so I was more than happy to tune in. Eventually, when I began consuming the likes of ROH, PWG and eventually NJPW (in my opinion the best company in the world when it comes to in-ring quality), I realised that the best wrestling on the planet isn't always under the biggest spotlight. I began searching and devoting more of my time to discovering great matches. I threw myself into the wonderful worlds of independent and Japanese wrestling, and now I am surrounded by more incredible content than ever before.
Wrestling was always something I could love and obsess over all by myself. The fact I barely had friends, if any at all, it didn't matter because I had wrestling to keep me happy. It was my substitute for socialising, but now as an adult, it's helped me to connect with people. I've made friends simply because of wrestling. I've talked to hundreds of people through this blog and accompanying twitter account because we all share a love for this wonderful business. As a child, I never had the chance to go to live shows because I didn't really have anyone else to go with, yet now, thanks to wrestling, I've got my faithful graps group that attend shows with me pretty much every single month. The thrill of experiencing wrestling live and being a part of that crowd environment is something that cannot be matched. When you're witnessing an incredible match or you're in the presence of a legendary performer, the feeling doesn't get any better than that.
Wrestling means everything to me – it's the reason I spend hours every week writing and researching thousands of words that I don't need to for any other reason than I enjoy it. Wrestling is the reason half of my wardrobe is made up of black t-shirts I bought from websites or gimmick tables. Without wrestling, I don't know how I would survive. I wouldn't have this constant stream of entertainment on an almost daily basis. I wouldn't have all of the wonderful memories I do. I wouldn't have the biggest source of passion in my life. It's one of the few things I've never stopped loving since my early childhood, and whilst most people grow out of it at some point, I love it now even more than I did back then, and for completely different reasons. It really shows what an art form wrestling is when so many people of different ages and backgrounds can all love and appreciate the same thing, but in totally different ways.
Whenever life is getting me down or things aren't going my way, I can always count on wrestling to make me feel better again. Wrestling ignites something inside me that nothing else can. Wrestling makes me leap out of my seat and scream aloud when I'm all alone. Wrestling helps me connect with others, and also disconnect with the world. Thank you wrestling, you mean everything to me.
If you share my love for wrestling, make sure to follow me on Twitter @HairyWrestling.