Names – they're pretty important.  In the crazy world of wrestling, it's essential to get a name right as it's often the first detail fans will know about you. A great name tells the audience exactly what a wrestler is about, and what their prerogative inside the ring is, especially when it comes to stables. When a group of competitors come together, it's vital they choose a name that reflects their relationship, their shared vision, their in-ring style, and their appearance. Having a fantastic name can be the difference between a faction just being good, and a faction being great. But out of all the pairings seen in promotions across the world over the last five decades or so, which stables have created the most memorable monikers? Well, there's no need to decide for yourself because I've done all the hard work for you (you're welcome). Here are the Top 10 Best Stable Names.
For this list, I am only including stables with three or more members, no tag teams or duos within stables are eligible (I have a list for those here). Also, I will only be including teams that had a considerable run together, so no one-time pairings or made-up names for house-show only teams. With that being said, let's get started.
Aces and Eights
Now, if this were a list of the greatest factions of all time, Aces and Eights would be nowhere near it. Their run in TNA was poorly booked, predictable, and ultimately not interesting, but at least their name was pretty cool. Named after the famous "dead man's hand" in poker, Aces and Eights didn't have a typical faction persona, and brought something a little different to the table (pun not intended). This stable is responsible for a cool name and Bully Ray becoming world heavyweight champion – let's just forget everything else about it.
Bullet Club
FO-FO-FOR LIFE! Bullet Club are the coolest property in wrestling today. They're selling merch by the truck load, making Hot Topic a fortune, and winning championships around the world. Their success is due in part to their image, their incredible talent, their attitude and affinity for crotch chops and hand signals popular in the 90s, and of course, their awesome name. Interestingly, the name for this stable derives from two members that are no longer part of the club. When BC first formed, founding members Prince Devitt (now known as Finn Balor) and Karl Anderson were known as "The Shooter" and "Machine Gun" respectfully, hence the name Bullet Club was formed. Despite no longer containing the group's namesakes, the faction continues to utilise the name, reflecting their effortlessly cool nature, and their adult appeal. This club may be rather exclusive to join, but it's certainly one we all want to be a part of.
Mount Rushmore
For those not familiar with Pro Wrestling Guerrilla, no, George Washington, Thomas Jefferson, Theodore Roosevelt and Abraham Lincoln were not all once part of a wrestling stable. And no, I am also not referring to that metaphoric Mount Rushmore of wrestling that JBL would talk about whenever he watched John Cena wrestle. In this case, I am referring to Kevin Steen, Adam Cole and The Young Bucks – a PWG stable named after the famous US landmark because they believed they were the four most important faces in wrestling. Since they disbanded, Cole went on to join the Bullet Club and eventually NXT, The Young Bucks continued to build up their popularity to the point where they are now the biggest tag team in the world, and of course, Steen went on to become WWE Universal Champion, and beat John Cena clean in his main roster debut. If things keep going like this for these four men, they may have their own actual mountainside sculpture created for them in the future.
D-Generation X
Are you ready?,,,
In 1997, Shawn Michaels, Triple H and Chyna formed a group the likes of which had never been seen before in the WWF. They did what they want, they said what they want, and they told anyone who disagreed to "suck it", like the bunch of degenerates they were. They acted like heels, but they were adored like faces by the Generation X viewers in the arenas and the millions watching at home. Whether as a trio or as an army (let's just forget about the later reunions), D-Generation X were the antithesis of the Attitude Era, and we all wished we could be one of them. And if you don't think DX have one of the best stable names in history, well I got two words for you…
Evolution
And now for another Triple H lead faction. Take a sixteen-time world champion with thirty years' experience in the business, the most dominant wrestler in the company at the time, and two of the most promising future stars in WWE, and you have one hell of a stable. The past, present, and future all in one group – that is Evolution. Three generations of sports entertainment in one dominating force, with an awesome name.
The Dusek Riot Squad
Before The Guerreros, before The Rhodes, before The Ortons, there was another wrestling family forgotten over the decades – The Duseks. These four real life brothers, as well as two kayfabe brothers, performed in territories across the Midwest and North East as early as 1919. During the 1930s, 40s and 50s, the siblings came together to dominate tag team wrestling in New York as part of possibly one of wrestling's first stables. Rather than being referred to as a family or as brothers, they were The Dusek Riot Squad. Face up against them, and you would be gunned down. It may be over eight decades old, but that doesn't stop the Dusek Family's stable name from being fantastic.
New World Order
As a wrestling fan, try and look at those three words without your mind instantly being flooded with those iconic guitar chords. In 1996, Hulk Hogan, Kevin Nash and Scott Hall changed Western wrestling forever. Borrowing an idea from New Japan Pro Wrestling, the New World Order were an invading faction separate from the rules and regulations of WCW. They attacked anybody that dared get in their way, regardless of if they were management or a member of the roster, and they were simply ground-breaking. The NWO may be the most appropriately named faction in history as they genuinely did usher in a new order of professional wrestling. Their popularity and non-PG demeanours brought in millions of viewers, and effectively sparked the WWF to respond by filling their programming full of attitude. Unfortunately though, much like everything in late 90s WCW, a good thing didn't last long, as the NWO was booked perfectly for around two months, and then it was bastardised and spliced into every possible variation available. The floodgates opened, and any old wrestler could just turn up and join the NWO, or even form their own chapter of the ever-growing faction. Despite how quickly it was ruined though, their legacy and popularity still remains to this day, thanks in part to their iconic name.
The Nexus
Think WCW were great at destroying amazing stable ideas? Well move over Eric Bichoff, Vince McMahon is here to defeat you once again! The Nexus debuted in 2010, and within one night, were the hottest property in professional wrestling. A group of ten rookies invaded Raw, and decimated everything in sight, including announcers, and even the ring. Each sporting an awesome yellow logo armband, their presence was instantly captivating as WWE viewers had never seen anything like them. Playing off the name of the reality show they had all just appeared on (NXT), these ten new faces were known as The Nexus – a word which means to connect, showing that the group were a single force bonded together by the same goal. They were fighting back against the humiliation they suffered as NXT 'rookies', and were all prepared to do anything they could to get to the top. Not only did they have such an interesting, unique name, they even had the perfect catchphrase to match – "You're either Nexus, or against us."…..And then John Cena buried them at Summerslam and the group never recovered again. Oh well, at least we have something to complain about.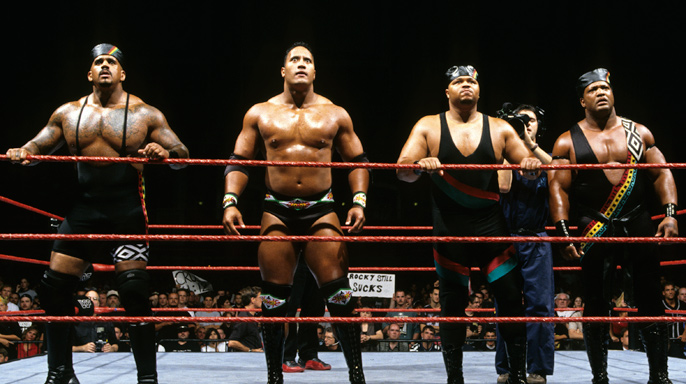 Nation of Domination
Just say those three words to yourself. No stable name in history has ever rolled off the tongue smoother than the Nation of Domination. It rhymes and everything! This WWF faction were memorable, powerful, and most of all, controversial. By referring to themselves as a "nation", they portrayed themselves as one single, powerful, unstoppable force set on domination. If their name didn't intimidate you, then their incredible size and imposing presences certainly would. And, let me just remind you again, it rhymes!
Honourable Mentions
The Brood
Dangerous Alliance
Sanity
Straight Edge Society
Second City Saints
The Four Horsemen
Who else could it be? Playing off the biblical four horsemen of the apocalypse, Ric Flair, Tully Blanchard, Ole Anderson and Arn Anderson formed the ultimate group in 1985. They had everything – the look, the talent, the gold, the hand signal, the money, the prestige, the best promos in the game, and of course, the iconic name. Successful, rich, and well-dressed, they were everything you wanted to be, and they took advantage of every opportunity possible to remind you. Capturing gold and breaking bones along the way, The Four Horsemen were the most powerful and successful stable the wrestling world had ever seen at that point, maybe even still to this day. They didn't just have the best name, they had the best everything.
What's your favourite stable name of all time? Let me know in a comment below or over on Twitter @HairyWrestling.