WWE 2K18 is here! In fact, it's been out a couple of weeks now, which means we've all had plenty of time to create our CAWs and win some championships because, let's face it, none of us have lives. I could have reviewed this game as soon as it came out, but due to the sheer amount of different content and features in the latest yearly instalment from 2K Games, I wanted to put plenty of playtime into the new release before I critiqued it, to make sure my review was as thorough and detailed as possible. So, is 2K18 worth your hard-earned cash, or will you have to make 2K17 last for another year? Let's find out.
If I had to sum up WWE 2K18 in one phrase, it would be that it's the Bray Wyatt of wrestling games – in some ways, it's absolutely amazing, unique, and a joy to watch, yet when it comes to the way these incredible features are executed, they are inconsistent and at times, absolutely appalling. You'll find yourself wanting to love this game, yet time after time you will be disappointed again and again, holding you back from truly being able to dedicate yourself to it, as much as you'd like to.
So much like the game itself, I'm going to sprinkle in the good points with the bad, the innovations with the major setbacks. Let's start with something wonderful: the creation suite.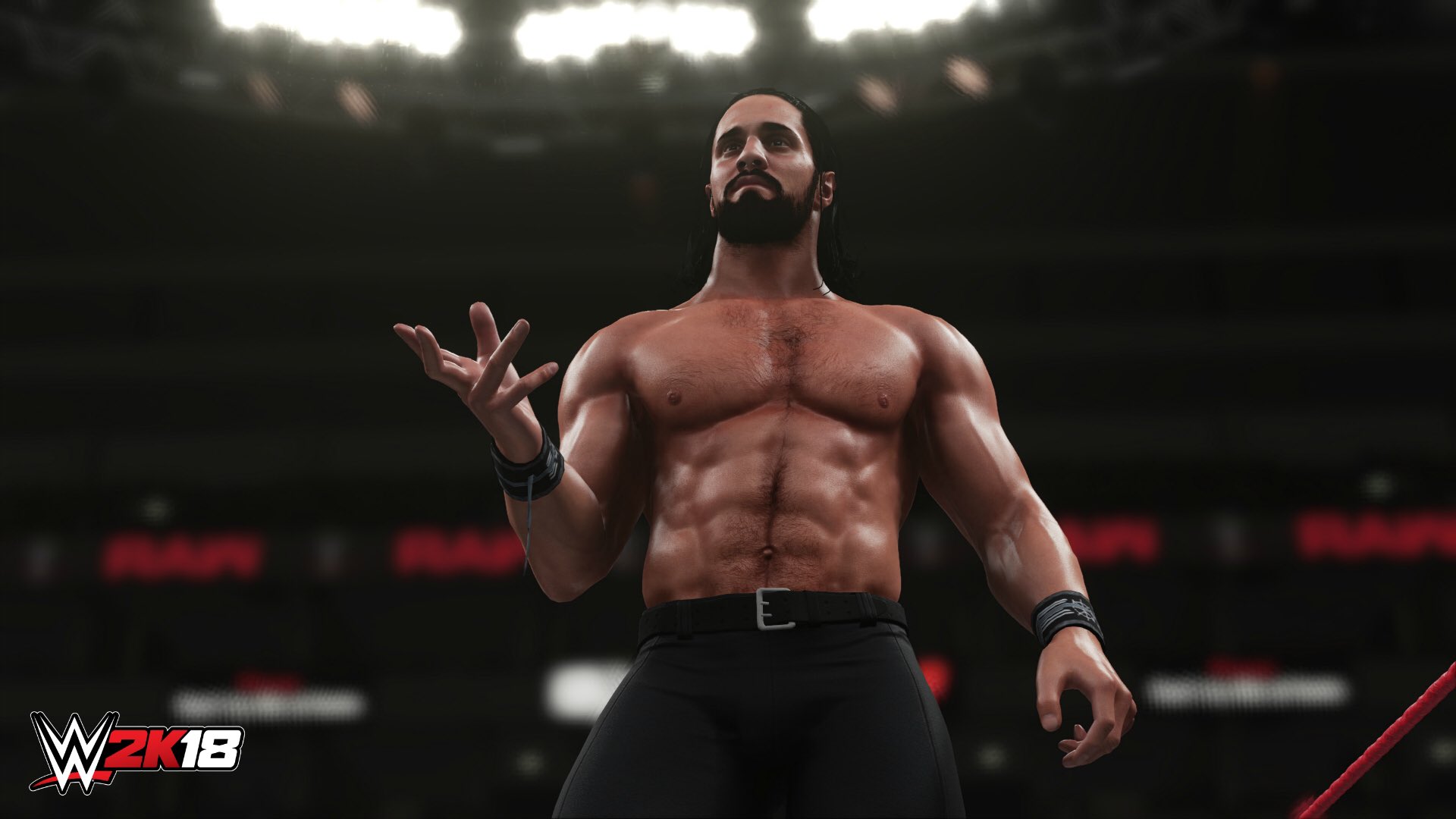 Creation Suite
Following on from their previous instalments, 2K have once again included possibly the most detailed and realistic creation suite in wrestling game history, yet this time it has even more features and improvements, including better image mapping onto clothing, and the ability to remove individual teeth (perfect for all you Mark Briscoe fans out there). With one-hundred slots at your disposal, you could dedicate weeks of your life creating the craziest and coolest wrestlers your imagination could conjure up. Alternatively, you could just let everyone else do the hard work and download other people's Community Creations. This is what makes the 2K wrestling games so wonderful – they can be whatever you want them to be.
With the ability to import your own photos and face scans, one-hundred CAW slots, and the option to download thousands of wrestlers made by other fans around the world, you can turn WWE 2K18 into any type of grappling game you want. Want to create a completely up to date representation of the WWE roster? You can. Want to build a game around all of your favourite indie wrestlers, or wrestlers from other big promotions? You can. Want to have a mix of your favourite superstars, past and present, regardless of who they are? You can. Want to have a full roster of superheroes and fictional characters, and completely throw all real-life wrestlers to one side? Well, you can. That's the appeal of this game. When I'm alone, I open up Universe Mode or MyCareer, and grapple with my favourite CAWs and wrestlers from around the world, then when my nephew comes over, he'll ask to play on 2K18 with me so we can fight with all of his favourite superheroes downloaded from Community Creations. WWE 2K18 may be the most diverse fighting game ever made, and that's why I will keep coming back to it all year long.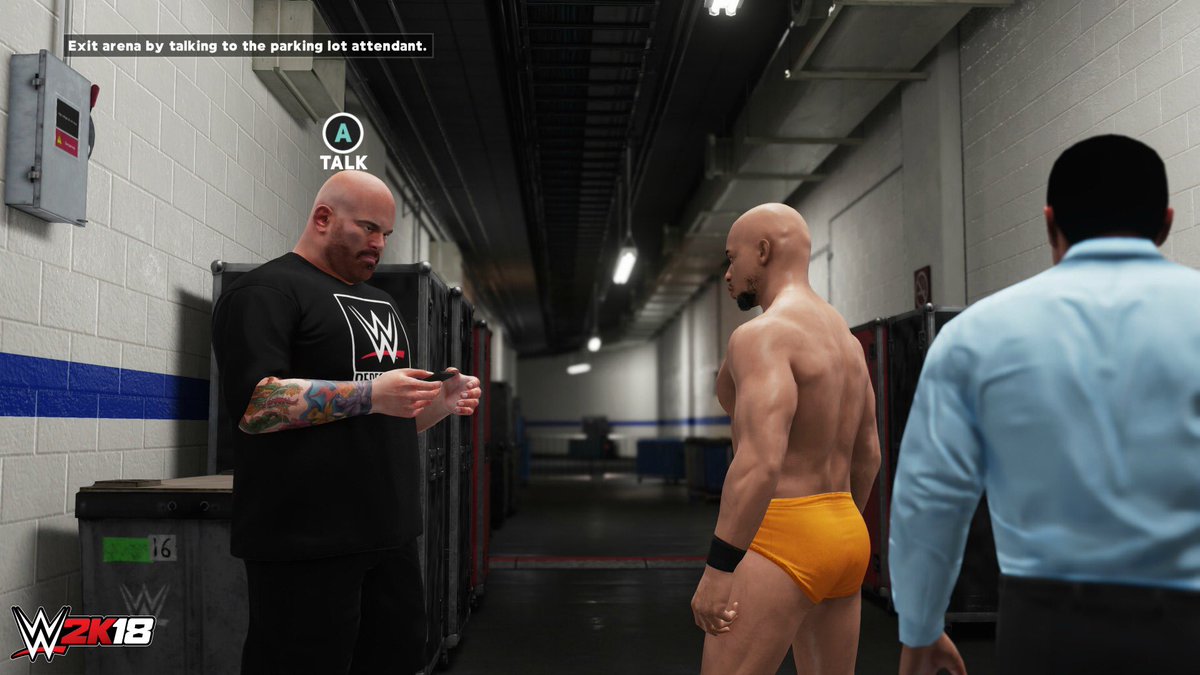 Game Modes
However, despite these almost limitless options available for your creations, it's a different story when it comes to MyCareer. What should be your chance to create your perfect CAW is instantly halted as in this year's instalment of 2K's signature story mode, you HAVE to choose one of their pre-created characters to start your WWE journey with. Sure, you can change your appearance once you're in the swing of things, but why would they force you to initially play as a generic, boring CAW? And then, once you are allowed to edit your superstar, you'll find that the vast majority of content is locked. Yes, you have to play the game to unlock new clothing and appearance parts, as well as moves, entrances, and taunts. Now, this has been done in previous instalments, such as in Smackdown: Here Comes the Pain where move packs had to be bought in season mode, yet 2K18 takes these restrictions to new levels. With barely any options to dress your CAW in, and an initially extremely limited moveset, you're guaranteed to be annoyed by how little content you can access in this game mode. And the worst part is, you can't just unlock the moves and clothing you want to using in-game credit, you have to unlock loot crates, either by completing objectives or by purchasing them, and if you get lucky, you might get one or two things that you actually want as all content is unlocked at random.
I understand that 2K wanted to give the feeling that as you improve as a wrestler, your moveset will get better also, but there was really no need to leave players with so little options to choose from. Also, how does my ability as a professional wrestler limit the amount of haircut options I have at my disposal? Why did appearance options have to be restricted to the same degree as well? It's one thing to reward players for their progress, but there needs to be enough to keep players happy to begin with in order to keep them playing.
MyCareer isn't all too bad though. It has a lot more interesting situations, storylines and sidequests compared to previous games to keep you busy, including the biggest and most diverse roster ever to fight against (even if one of them is Sawyer Fulton, for whatever reason), the return of a parking lot area so you can basically kill opponents by powerbombing them onto windshields or throwing them off the top of a semi-truck onto pure concrete. It's a shame the same can't be said about 2K's newest game mode – Road to Glory. Using your MyCareer player, you compete online against others for loot crates, in-game credit, and exclusive content only available through Road to Glory. Each day of the week has a different match type to play, and every PPV has its own card of challenges to play through. All of that would be great…if anyone was actually playing it. WWE 2K18 has been out for two weeks, and it's online community is already dead. When you finally do make a connection with someone, it's hard to have any fun with it due to many players' tendencies to use cheap tactics to get the quickest and most annoying victories possible. Plus, the fact you can only play one match type each day could easily get repetitive – I enjoy a good Ladder Match from time to time, but do I seriously have to play them all night just for a few loot crates? The ideas behind this mode are interesting and exciting, and admittedly load times have improved greatly thanks to a recent patch released by 2K, unfortunately though, they have been executed so poorly that it seems as though 2K won't be able to recover it, not until 2K19 at least.
CLICK HERE FOR THE BEST STORY MODES IN WRESTLING VIDEO GAMES
CLICK HERE FOR THE WORST STORY MODES IN WRESTLING VIDEO GAMES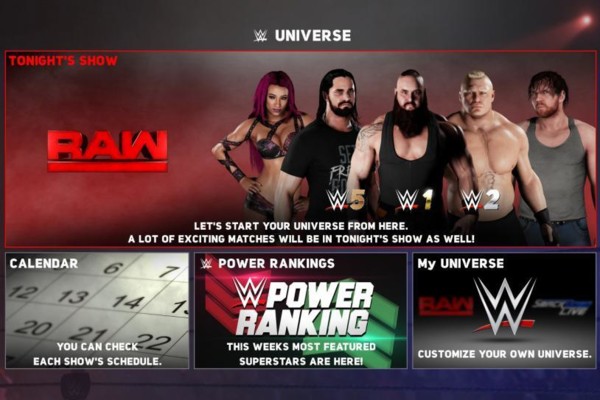 Once again, the long-running Universe Mode returns in 2K18. Featuring some minor improvements, the mode is as good as it has always been, and will without question keep me fantasy booking up until next October. However, there is one big problem…THERE'S STILL NO GM MODE!!!!!!!! For years, WWE video game fans have been crying out for the return of this beloved game mode, which had you take control of either Raw or Smackdown in a ratings battle with the other show. Despite our persistently loud screams for attention, 2K continue to ignore our pleas to be a general manager once again. What makes this massive omission especially annoying this year is that it was the perfect time to bring it back. WWE 2K18 is the first game to be developed since the brand split occurred in July 2016, so having the option to either control multiple brands in Universe Mode, or compete with other GMs for brand supremacy would have been a major selling point for this year's game, and would have tied in with the current WWE landscape perfectly. How much longer will you make us wait 2K?! We're not asking for much!
Gameplay
So let's get down to the most important part, the gameplay. If you've played WWE 2K16 or 2K17, you've basically played 2K18 as well. Apart from a new grapple carry system, tussling around the ring with other men/women is a very similar experience to preceding titles. Apart from a very awkward and inconsistent reversal system, the grappling gameplay is one of the best in any WWE instalment of the last ten years. While it may initially take a little time to get used to, the mix of strong and weak grapples and strikes, wide range of environmental situations to inflict punishment, and the split-second kick-out system make for lengthy and challenging fights for any solo player. Rather than automatically being prone to a pinfall after taking a wealth of damage, like you would in the older, arcade-style games of old, 2K18 rewards skillful players by allowing them to roll out of the ring, reversing mid-moves, and kicking out of even the most brutal of finishers, providing they're good enough to do so.
While this can make for a great solo session of grappling, when it comes to multiplayer, you'll be left disappointed. For a start, it's certainly not friendly to new players – 2K18 lacks the pick-up-and-play friendliness of the N64 and PS2 WWE/F games. This is fine for your fellow marks, but for your non-wrestling fan friends, WWE 2K18 really isn't an option for a great games night in. When playing with friends, you need that fast-paced, ridiculous, unrealistic arcade action of old, not pin-point precision and a rest hold system. The likes of Here Comes the Pain are bound to have you laughing along with friends, 2K18 will have you explaining the control scheme all night. If you're planning on tag teaming or playing a few Royal Rumbles with pals, perhaps it's time to dust-off your old WWF No Mercy cartridge.
And now, let's just list off what's left to talk about:
Positives:
– Various new arena sizes in Create an Arena mode, allowing for more authentic indie promotion sets
– The strange but awesome 8-bit match filter that takes your gameplay back to the 80s
– Sort of improved commentary system (not by much though), void of Lawler's terrible jokes
– CUSTOM MATCHES ARE FINALLY BACK!!! We can finally play 2/3 falls matches, and battle royals can once again be pinfall/submission elimination! A feature I personally have missed for years.
– 8-Man ladder and battle royal matches full of wonderful chaos. Although the frame rate can slow down with so much action on screen, it's still a whole lot of fun nonetheless.
– Lovely new graphics engine that makes the majority of superstars look more gorgeous than ever
– Logos finally don't fade when stretched in Create a Wrestler
– Improved Elimination Chamber and Royal Rumble matches with new features and animations
– Show intros are thankfully now skippable in MyCareer and Universe Mode
– Some really awesome new moves available from day one in the game
Negatives
– No women's career mode option
– No Create a Finisher
– Some of the superstars have VERY creepy eyes
– This is a WWE 2K game, so obviously it is littered with bugs – some hilarious, some frustrating, and some game-breaking
– Having to run to the parking attendant every week in MyCareer gets a little tedious after a while
CLICK HERE FOR THE WORST THINGS IN WWE VIDEO GAMES
Overall, WWE 2K18 is a more than acceptable game. Yes, of course I will play this all year long due to my love of pro wrestling and video games, teamed with my obvious lack of a social life, however that doesn't mean I won't get frustrated all year round as well. The biggest problem with the modern WWE games is that 2K seem to be so focused on the small details that they ignore the biggest issues of all. Realistic sweat and skin textures, 8-bit filters and backstage interactions with other wrestlers are all very well and good, but when they're chosen over the return of GM Mode or most importantly, an ever improving gameplay engine, then there's clearly something wrong. WWE 2K18 should keep the majority of players happy for many months to come, especially if they continue to patch the various problems and glitches, but it won't be something you'll pick up again once 2K19 is released next year. It's fantastic in some aspects, yet its many drawbacks sadly stop it from being a classic. It is the Bray Wyatt of video games, and much like the Eater of Worlds himself, let's hope things go a lot better for 2K games sooner rather than later.
What do you think of WWE 2K18? Let me know in a comment below or over on Twitter @HairyWrestling.