2017 has almost come to an end. In my opinion, this has been one of, if not the best year for pro wrestling that I've ever been witness to. Full of amazing moments, history-making matches, and an endless amount of fantastic content for any type of fan to enjoy around the world, wrestling in 2017 has truly been a gift to us all. But with a twelve months so full of wonderful moments, how could we possibly whittle it down to just ten of the best?! Well, don't you fret my loyal readers, I've done all the hard work for you – here are the Top 10 Wrestling Highlights of 2017.
Breezango
2017 was the year these two finally got a chance to show off what they can do on a regular basis. Formed in 2016 just so The Golden Truth would actually have somebody to have a rivalry with, the pairing were destined to be jobbers, with little hope for a major push or angle. However, after showing promise with a new Fashion Police gimmick at the end of last year, the two would use every opportunity they could to try and get viewers talking about their very important law enforcement duties. Suddenly, back in April of this year, Breezango were given a chance at the tag team titles, and delivered one of the best comedy matches seen in WWE for years. Although they didn't capture gold, they did go on to become the weekly highlight of Smackdown with their Fashion Files segments – parodies of crime-solving shows and movies of every genre. Breezango are currently one of the most entertaining things in wrestling right now, and have kept me smiling throughout 2017. I really hope these two fabulous fashion officers aren't taken off the force any time soon.
The Hardy's Return
Admit it, we're all gutted we haven't seen the Broken Hardys together in WWE yet. What's worse is that Jeff really did break himself with a side-lining injury a few months back. Sure, their nostalgic run as the good old classic Hardy Boyz was highly entertaining, and in no way am I criticising or complaining about it, it's just not the wonderfully bizarre trip through the Broken Universe we had all hoped for. Despite the disappointment though, the Hardy brothers' return makes the list because of one moment – Wrestlemania. When their music hit, an entire stadium erupted with joy. I was sat in a pub surrounded by wrestling fans, and the entire place leapt to their feet. People clapped, glasses were smashed, you could just feel the happiness in the room. It's one of those amazing moments that makes me adore pro wrestling even more. Thankfully, it looks like we are finally be getting to see Broken Matt in WWE, or at least some kind of variation of him. If we do get the full Broken Universe contained in WWE in 2018, it will certainly rank a lot higher in next year's list.
A Debut Year Ends in a Dream
Aleister Black is a megastar. He has everything – the look, the skill, the entrance, he is the full package, and in my opinion, a future main-eventer. At NXT Takeover: Orlando back in April, Black debuted against Andrade 'Cien' Almas, and blew everyone away with his strikes and effortlessly cool persona. As the months went by, Black eliminated more and more opponents with his awesome Black Mass spin kick, including Hideo Itami, Kyle O' Reilly and others, racking up an impressive undefeated streak. But then, to the surprise of us all, he entered into one of the most surprisingly brilliant feuds in recent memory. The extremely flamboyant Velveteen Dream became obsessed with Black, vowing to make the silent superstar say his name. After weeks of surprise attacks, the two faced off in a fantastic match at Takeover: War Games, where Dream earned Black's respect, and finally gave him what he wanted.
Aleister Black has been a flawless package since he debuted back in April. His run so far in the company has been outstanding, topped off with one of the most entertaining feuds of the year. 2017 has been a great year for the former Tommy End, here's hoping 2018 is even better.
The Festival of Friendship
No segment was more perfectly executed in 2017 than The Festival of Friendship. Showgirls, a magician, Chris Jericho in a matching sparkly hat and jacket, it had it all. Beginning with a series of hilarious gags, the segment turned into a true reflection and love letter to the time Chris and Kevin had spent together. It was a lovely reminder of how insanely entertaining the two had been during their run as a team, with Jericho going as far to say it was one of his favourite times in his entire career. But then, the heartbreak began. After the two buddies exchanged "I love you"'s, Owens handed Jericho a gift of his own – a new list. The joy on Y2J's face suddenly vanished as he uttered the soul-destroying phrase, "How come my name's on this?" He peered at the back, saw it was in fact The List of KO, and looked up for just a split second as his former best friend began to destroy him. The friendship was over, and as sad as that was, it was one of the best segments I have ever seen.
Mae Young Classic
What a fantastic event the Mae Young Classic really was. Following on from the incredible Cruiserweight Classic from 2016, WWE decided to hold yet tournament inside Full Sail Arena, which saw some of the best signed and unsigned female talent from around the world compete to win the Mae Young Classic trophy. It was a brilliant platform to display the abilities of 32 very different competitors, and a launching pad for new stars in WWE. Standouts include the extremely athletic Bianca Belair, the physical specimen Jazzy Gabert (who instantly won over the WWE audience), the charismatic Toni Storm, and of course, the eventual winner, Kairi Sane. WWE even managed to bag one of MMA's Four Horsewomen for the tourney, Shayna Baszler, who is now signed full-time to the company. There were plenty of great one-on-one bouts throughout, but the standout match of the event came in the first round, when Piper Niven faced off against Santana Garrett in a fight that instantly made stars out of both of them.
The Mae Young Classic not only provided us with hours of brilliant in-ring matches, it also spawned a whole group of new female superstars. With many of the competitors already appearing on NXT regularly, training in the Performance Centre, and even competing on the main roster, the MYC acted as a sampling for the future of the women's division in WWE, and after seeing the talent available in those 32 entrants, it's fair to say we're in for more classic matches in the future.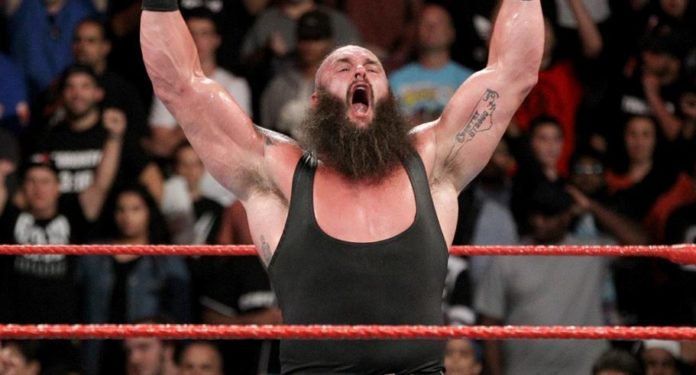 Braun Strowman
Seriously, when Braun Strowman debuted back in 2015, did anybody expect him to make a turnover quite as drastic as this? The former Wyatt Family member was a complete unknown when he bypassed NXT television and powered his way straight to main roster, which is unheard of in the modern WWE landscape. In fact, as he revealed on Talk is Jericho, Strowman's first main roster match at Night of Champions was only his fourth ever match overall. Given his inexperience, Braun barely had three moves in his arsenal, and not a single ounce of character in his gargantuan frame. Strowman was the epitome of old school wrestling values, Vince McMahon's wet dream come to life – despite his lack of experience and ability, his size had guaranteed him a great spot on the card in an incredibly short period of time, which left fans around the globe groaning.
However, to the surprise and delight of us all, this monster managed to turn things around. In the 2016 brand split, Strowman was separated from his bearded brethren, sported a new haircut, and started displaying some of his new-found skills in weekly squash matches. Sure, initially he wasn't setting the world on fire, but overtime, it was staggering how much the man mountain was improving. We could all see him develop as the weeks went by, and it was fascinating to watch, you couldn't help but grow to like him more and more. As promising as his 2016 run was though, it was in 2017 where he became a megastar.
In this year, Braun has gotten better and better. He was a part of some brilliant brawls with the likes of Roman Reigns, Brock Lesnar, and some of the most surprisingly great matches of the year against the veteran Big Show. Also, he's done some truly mental ridiculous acts of monstrous rage for our entertainment, including throwing Kalisto in a dumpster, kicking Apollo Crews mid-air to the other side of the ring, and turning over a freaking ambulance with his bare hands. It isn't just his immense strength that will impress you though, as the 300+ pounder is also frighteningly quick, can trade rest holds with the best of them, and can even do a kip-up with ease. Braun Strowman is a true call-back to Attitude Era giants – badass, destructive, beloved by fans, and whenever you watch him, there's always a feeling that he could suddenly do something insane, memorable, and brilliant. 2017 was the year that Braun proved that he is without question a true main-eventer, and one of WWE's best home-grown creations in years. Hopefully, 2018 will be the year that Strowman finally crushes his way to some championship gold.
Neville Cruiserweight Champion
Is Neville still in WWE? Is he heading off to New Japan? At this point, nobody is really sure, probably not even the man himself. What we are certain of though is that Neville is absolutely remarkable. We all knew that The Man That Gravity Forgot is one of the best athletes in the wrestling world, but 2017 showed us that he's also one of the best heels, to our collective surprise. Before this year, Neville was never considered to be someone who was good on the mic, or really had a character other than, "Woah, he can do crazy flips and stuff!" His main roster run was nothing to envy up until late 2016, at which point Neville made a surprising heel turn, and shocked us all by developing one of the best characters in WWE. Neville went from one of the worst to one of the best talkers we've seen in years. For me, he has to be the standout performer in WWE throughout 2017 with his dominant run as Cruiserweight Champion, which is what made the news of his possible upcoming departure so shocking. Wherever he ends up competing in 2018 though, it's a guarantee that Neville will be incredible, especially if he remains a heel, and I am really looking forward to it.
The UK Takeover
The UK wrestling scene is on fire right now. Independent promotions around the country are filling arenas, and the talent on their rosters are the talk of the wrestling world. In fact, this scene is so brimming with potential right now, WWE wanted to capitalise on it with it's own division. In January, the first WWE United Kingdom Champion was crowned during a tournament inside the beautiful Empress Ballroom, and the belt itself was even more stunning. Sadly, a weekly UK show on the WWE Network has yet to come to fruition, but we were still treated to plenty of appearances on NXT, 205 Live, and even Monday Night Raw from the UK talent. And who could forget the incredible UK Championship match we saw at NXT Takeover: Chicago, many people's pick for WWE's Match of the Year.
Of course, the division's standout talent has to be current champion, Pete Dunne. Given how much praise Triple H and William Regal have given him, the fact HHH accompanied him to an ICW show in November, and his recent debut win against Cruiserweight Champion Enzo Amore on Raw, it's clear that the company are extremely high on The Bruiserweight, and it's easy to see why. With a face that just screams out villain, Dunne is designed to be a heel, but his amazing in-ring ability makes it hard for fans to boo him. He's one of the most promising young talents in the world, and when he does eventually transition to a full-time WWE schedule, hopefully he will be the main-eventer he deserves to be.
And speaking of WWE schedules, one of the best things about the UK division currently is that we are still able to see them at most indie promotions around the UK. Pete Dunne notably held the Progress and WWE UK Championships at the same time, British Strong Style (Dunne, Bate, and Seven) have been doing Triple H's signature entrance and Pedigree around the country, and what's more, WWE have even allowed talents like Kassius Ohno, Noam Dar and Jack Gallagher to compete in promotions such as Progress and ICW. Surprisingly, WWE haven't shied away from the indie antics of their UK Division talents, they've actively promoted these companies, and even allowed Pete Dunne to appear on the WWE Network with the Progress Championship. Rather than damaging the UK independent scene, WWE is actually helping it, and that's a wonderful thing.
Outside the world of WWE, UK independent talents, as well as wrestlers that mainly compete there, have been absolutely killing it in promotions around the world. The tables seem to have turned as now American indies are bringing in the hot British talents to attract fans, and then we have Marty Scurll joining Bullet Club, winning the IWGP Junior Heavyweight Championship (from his fellow countryman, Will Ospreay), and selling merch in record numbers.
Both inside and outside of WWE, there's never been a better time to be a UK wrestler, or a UK wrestling fan.
The Global Takeover of Wrestling
2017 was the year that wrestling became cool again. Pro wrestling finally has that unpredictable sense of wonderful chaos that it did during The Attitude Era – it really does feel like anything can happen now. This year, we've seen the unthinkable happen, with events such as Kurt Angle becoming a member of The Shield for the night, HHH showing up at an ICW show, Chris Jericho announcing he will be wrestling Kenny Omega at Wrestle Kingdom, various contracted WWE talents competing for indie promotions, WWE bringing back War Games after twenty years, and much more.
This year also saw the release of easily the best drama ever created about this wonderful sport. To everyone's surprise, Netflix released GLOW, a series that paid homage to the all-female wrestling show of the same name established in the 1980s. Rather than being cheesy, disrespectful, or just plain bad, GLOW was a change from the majority of wrestling-based television and film we've all become accustom to. GLOW treated wrestling with every ounce of respect that it could, showing a realistic insight into how difficult the training process is, as well as the personal lives behind the over-the-top wrestling personas. GLOW was well received by fans and critics alike, earning a 95% rating on Rotten Tomatoes. For anyone who has seen it, you'll know that you don't need to be interested in pro wrestling to enjoy it, but if you are, the various cameos and references will keep you entertained throughout. Hopefully, GLOW has inspired many of its viewers to look at wrestling in a different light, and possibly gain more respect or interest for it, and that can only be a great thing.
What's more, not only are we experiencing a rise in talent and unpredictability, wrestling is also going through a financial boom period. WWE recently reported their most successful quarter in history, while outside of WWE, indie promotions everywhere are thriving, stars like Joey Ryan are making more money than they would if they signed with NXT, and Bullet Club shirts are available in nationwide chain Hot Topic, selling like hot cakes (417,430 in 4 months according to OneHourTees). For a group of wrestlers that have no association with WWE whatsoever to have their merchandise not only stocked by a major retailer like Hot Topic, but to also have their highest-selling t-shirt above major franchises such as Rick and Morty, that is utterly astounding, and shows clearly just how strong the state of wrestling has been this year.
With the amount of unbelievably good content at our disposal, it's fair to say we are all lucky to be wrestling fans right now. 2016 saw many major changes in the wrestling business, 2017 took advantage of them and threw the sport into mainstream attention. You can all come out of hiding, my fellow marks, wrestling is cool again.
Honourable Mentions
Kurt Angle Returned to WWE – Everyone's favourite Olympian finally came back to WWE to everyone's delight. Sadly, we are yet to see Angle compete in a singles match in the company, but Wrestlemania is only a few months away.
Bray Finally Won the Big One – The Eater of Worlds won the WWE Championship, but then ended up having a terrible run and an even worse Wrestlemania match.
Keith Lee – This was Keith Lee's breakout year, perhaps 2018 will be the year he shows the WWE Universe just how limitless he is.
Pro Wrestling World Cup – WCPW held a huge tournament this year using talent from around the globe. From a personal stand point, as the now re-branded Defiant Wrestling holds many shows close to me, I got to witness many fantastic matches live because of this tournament. Go and watch Mike Bailey vs. Will Ospreay immediately.
The Turn-Around of Andrade 'Cien' Almas – Began the year as a glorified jobber, ended it as NXT Champion. Amazing.
Suzuki-Gun Returned to New Japan – Everyone's favourite scary uncle, Minoru Suzuki, returned to New Japan with his army, and provided plenty of entertainment throughout the year.
New Bullet Club Members – The addition of Cody and Marty Scurll into Bullet Club, along with the rise of Hangman Page, this year made the group even stronger, and even more entertaining, as well as helping the popularity of these three men surge in the process.
Don Callis on Commentary – I was sad when Steve Corino went to WWE this year because he was so damn hilarious on commentary in NJPW. Luckily for us all, the former Cyrus, Don Callis, took his place, and he is a gift to us all.
Edge and Christian's Pod of Awesomeness – If you aren't listening to this yet, you need to immediately. Debuting early in the year, E&C's Pod of Awesomeness quickly became my favourite podcast due to the life-long best friends' chemistry, hilarity, and ability to get some of the best guests possible.
Tye Dillinger Enters the Rumble at #10 – They did it! They did the thing!
Impact Survives Another Year – A major platform for wrestlers to appear in is always a good thing, so the survival of Impact Wrestling for another year is always something to celebrate.
War Games – This legendary WCW match finally arrived in WWE after twenty years, and it was epic.
Drew Gulak's……POWERPOINT PRESENTATION!! – Despite the fact we've only gotten to see about 1/27th of it, Gulak's PowerPoint has been one of the most entertaining things in WWE in 2017.
New Day vs The Usos – One of the best feuds in WWE this year produced some amazing matches, and a rap battle so savage that the company will never air it in full ever again.
Okada vs. Omega Trilogy
On the 4th day of this year, two men crafted one of the greatest wrestling matches we have ever seen. By August, they had clashed twice more, and both times were just as good, or even better than their first history-making encounter.
When Kenny Omega became the first non-Japanese wrestler to win the G1 Climax tournament back in 2016, we knew immediately that his upcoming match against Kazuchika Okada on January 4th 2017 would be something special, we just didn't expect it to be that good. Omega and Okada kicked-off the year with a match so good it had the entire wrestling world talking, and earned a six-star rating from Dave Meltzer, something which had only been achieved once before. Those 45 minutes were immediately being heralded as one of the greatest matches in history, and was almost guaranteed to clinch match of the year from every publication and website, however, it turns out that they only people who were capable of topping that historic match were Okada and Omega themselves. It's very difficult to keep up an entertaining pace for over 45 minutes without having significantly long moments of uninteresting action, but for two of the best wrestlers in the world, more time in the ring just means more time to show off how incredible they are.
Simply put, Kenny Omega vs. Kazuchika Okada from NJPW Dominion is a perfect professional wrestling match. There's a reason why it's Dave Meltzer's highest rated match of all time. This match just built and built and built to create an incredible story. At the 40 minute mark, I literally couldn't sit down because of the tension. I was stood pacing around the room gasping and wrestling with the butterflies in my stomach – I didn't care if my entire family was sat waiting for me to stop watching the match so we could all go on a planned trip to the seaside, Omega vs. Okada 2 was worth making a four year old child wait around for. This sixty-minute time-limit draw is storytelling perfection. Neither man could put away the other, setting up the third bout in the saga perfectly, which came during the G1 Climax tournament in August, where Omega finally managed to beat the unbeatable IWGP World Heavyweight Champion, in yet another six-star rated match.
Want proof of how good wrestling in 2017 is? Just look at these three matches. Not only did three of the greatest matches in history take place all within six months of the same year, they all involved the same two men. Personally, I can't wait to see these two face each other again in 2018 so we can finally decide who is the better man, but as for 2017, it will always be remembered for being one of the greatest ever years in terms of match quality purely because of these two incredible talents.