CLICK HERE TO CHECK OUT PART ONE
War Games Match – NXT Takeover War Games
Here is a list of reasons why you should love the first War Games match in NXT history:
– First match of its kind in 20 years
– A participant of the first-ever War Games match was involved
– There wERE two rings with plenty of shenanigans
– Killian Dane did some amazingly athletic things for a man his size
– Alexander Wolfe was once again brilliant yet underrated
– ADAM COLE BAY-BAY!!
– A superplex from the top of the cage
– Authors of Pain throwing grown men around like they were children
– An amazing table spot
– Mauro Ranallo on commentary
Do I need to say more?
Mike Bailey vs Will Ospreay – WCPW Pro Wrestling World Cup
If you've never seen this match, it's available for free on YouTube, and is an incredible exhibition of two of the best young talents in the world today.
Fun fact: Mike Bailey once spin-kicked my hand whilst he was on the way to the ring, and he certainly didn't hold back. My wrist still ached the next day.
Without question, this is the greatest match I have ever had the pleasure of experiencing live. These two men had the entire crowd in their collective grasps as we continuously lost our minds at their displays of athleticism. Perhaps the fact I was in the crowd for this one may be seen as something that would make me bias towards this bout, but go and watch it for yourself, and tell me you weren't amazed.
Now, you've more than likely heard of Will Ospreay at this point, but sadly, Speedball Mike Bailey may be someone you're not all too familiar with. Bailey is a Canadian wrestler that combines his skills in martial arts (trained in Taekwondo) with high-flying artistry, along with believable selling, and a willingness to destroy himself in order to win. Something you will realise quickly is that Mike Bailey is extremely stiff, and it makes for wonderful viewing. This probably is summed up best by his finishing move, The Ultima Weapon – a diving shooting star knee drop to the back of his opponent's head. It's beautiful to watch, yet brutal to receive.
Ospreay and Bailey punished each other during the Pro Wrestling World Cup in this lengthy, exhilarating, back-and-forth match, which would end up being the greatest match of the tournament by far. Once you've finished checking out this list (along with plenty of my other content, thank you in advance), make sure you check out this one, you'll thank me for it later.
Nikki Cross vs. Asuka: Last Woman Standing – NXT
In a week that saw women main event WWE's main three television shows, the best of them all came from NXT – a Last Woman Standing Match for the NXT Women's Championship that will never be forgotten. What made this match so outstanding was the dedication to both women's personas: Nikki Cross literally never stops being in character no matter what is happening within the ring, whilst Asuka is without doubt the hardest-hitting woman in WWE, and the most willing to take punishment.
Earlier in the night, the drama started as Nikki Cross jumped on-top of Asuka's moving car. Then before the match started, Cross waited in the ring, repeatedly saying her opponent's name, biting the ring ropes, and flailing her body around. Cross' perfect character work really made us feel like anything could happen in this match, and that we were about to see something crazy and incredible – and that's exactly what we got. Cross vs. Asuka may be the most violent WWE women's match we've ever seen. These two future main roster stars threw everything at each other, including chair shots, moves onto the apron, and moves onto chairs, but they both still got up. The story of Asuka being so unbeatable throughout was told impeccably – she even managed to stand up after a hung-up spinning neckbreaker to the floor outside the ring. Ultimately, it was an insane superplex off a ladder onto an announce table that ended this unbelievable brawl, as Nikki lay still at the ten count, and the unbeatable Asuka barely stood tall.
CLICK HERE FOR SOME MORE AWESOME WOMEN'S WRESTLING MATCHES
Brock Lesnar vs. Braun Strowman vs. Samoa Joe vs. Roman Reigns – WWE Summerslam
Four huge men collided in the most exciting, fast-paced WWE main event of the year. Braun Strowman shined as the star of this match, destroying everything in his path and manhandling Brock Lesnar in a way we hadn't seen before. Each of the four men played their part, providing a conveyer belt of memorable moments, each having their chance to shine. After a spear through the barricades and two announce table-breaking Strowman slams, Lesnar was helped backstage, seemingly eliminated from the contest, only to emerge later, brutalise his competition, and win the match. If you want to close a show in spectacular fashion, this is how you do it.
John Cena vs. AJ Styles – Royal Rumble
As the old saying goes, "good things come in threes", and in the case of the AJ Styles vs. John Cena trilogy, it certainly rings true. Styles and Cena's first two matches were both fantastic, their Summerslam showdown especially was one of the best of 2016, but it's fair to say that this one may be even better. The final instalment in this saga took place back in January in front of over 50,000 people, and it was a masterpiece. There was a true big fight feel in the air as the San Antonio crowd gasped and cheered as these two megastars traded signature moves, false finishes, and maneuvers we haven't seen from them in years. It took every single weapon in his arsenal, but John Cena managed to put Styles away to win his 16th world championship, whilst making AJ seem like the bonafide main-eventer he deserves to be. Also, what really adds the perfect finishing touch to this match is the commentary provided by Mauro Ronallo – it's possibly the greatest call of his career, full of passion, emotion, and "MAMMA MIA!"-ness. Everything about this bout is wondrously memorable, and is no doubt the best main roster WWE match of 2017.
Tyler Bate vs. Pete Dunne – NXT Takeover Chicago
They may have had a combined age of just 43 at the time, and they're part of a WWE division that doesn't even have its own weekly show yet, but these two young UK talents can put on one hell of a great match. We saw them compete in the UK Championship Finals all the way back in January, and it was fantastic, and the fans in attendance that night were eating it up. But that was when these two future stars were in front of their home countrymen, and competing in the final match of a fantastic tournament for a brand new, beautiful title – how would they fair against an American crowd with very little TV time to build-up the match? Well, turns out, even better than before.
The Allstate Arena exploded in excitement throughout this memorable title bout, and fans watching at home were treated with the fantastic commentary of Jim Ross and Nigel McGuinness. Dunne worked on Bate's hand throughout, Bate delivered one hell of a flying clothesline, we saw an unbelievable Spiral Tap from the 20 year old, and Dunne X-Plexed Bate right onto the apron. It was a match filled with high spots and excitement that ended with the gorgeous Bitter End, and a new champion was crowned. To most, it may be hard to believe that two WWE UK competitors could pull off what many think is WWE's  best match of the year so far, given how it's still a developing brand in WWE that's had little exposure, yet if you've watched these two on the UK indie scene in the last couple of years, you won't be surprised at all by the quality of this memorable brawl. Once the UK division finally gets its own regular show, this match will certainly be responsible for bringing in plenty of its viewers.
Kenny Omega vs. Kazuchika Okada – NJPW G1 Climax
Although this may be the weakest match in the trilogy, Okada vs. Omega 3 is still one of the greatest matches in G1 Climax history.
Two champions stood across the ring. Each man was desperate to not only advance to the G1 finals, but to prove that they could definitively beat the other. Due to the thirty-minute time limit of this match, and the importance of a decisive victory for either of them, both men went from nought to sixty within seconds, establishing an extremely fast and chaotic pace as soon as the bell rang. Whilst their other two classics started slow, and built and built into masterpieces of professional wrestling, this six-star match started off hot, and did not slow down for its entirety.
One of my favourite details about this match is the sheer amount of counters involved in it. To show how much each man has learnt about the other during their previous battles, Okada and Omega traded insane counters throughout the match. Another reason why this match is so fantastic is the desperation shown by Omega. By this point, he hadn't been able to put away Okada for the three count, so in order to ensure victory, Omega targeted Okada's injured upper back, and punished him with moves such as a brutal Dragon Suplex onto the ring apron.
After a ridiculous amount of V Trigger knee strikes, and a beautiful One Winged Angel in the middle of the ring, Omega finally beat his biggest adversary to advance to the finals of the G1 Climax Tournament. Okada vs. Omega 3 will utterly blow your mind with how unrelentingly fast and exciting it is, and the wonderful thing about it is that there are two other collisions between these two that are even better! The record stands at 1-1-1, I think in 2018, we need to decide who is the better man once and for all.
CLICK HERE FOR THE TOP 10 KENNY OMEGA MATCHES
CLICK HERE FOR THE TOP 10 THINGS I'M LOOKING FORWARD TO IN 2018
Kenny Omega vs. Tetsuya Naito – NJPW G1 Climax Finals
Kenny Omega really is a match of the year machine. In 2016, he faced Tetsuya Naito in the semi-finals of the G1 Climax tournament, and it was easily one of the greatest matches of that year. Fast-forward twelve months later, and the same two men met once again during this prestigious tournament, this time in the finals, and they managed to somehow improve of their previous masterpiece.
What makes this match so great is that Omega and Naito both reach deep down into their past to pull out every single signature move they have, with Omega using the rarely seen Croyt's Wrath and Naito using his impressive former finisher, the Stardust Press. Both men show off their junior heavyweight roots throughout as they perform some incredible athletic maneuvers to try and capture the victory, and the future IWGP World Heavyweight Championship opportunity. After multiple major reversals and false finishes, Naito put away Omega with a gorgeous Destino, and wrapped up one hell of a match. This was Omega's fourth match of the year to get more than five stars from Dave Meltzer, and it's easy to see why.
IF YOU'RE YET TO WITNESS HOW GREAT NEW JAPAN IS FOR YOURSELF, CLICK HERE FOR MY BEGINNER'S GUIDE TO NJPW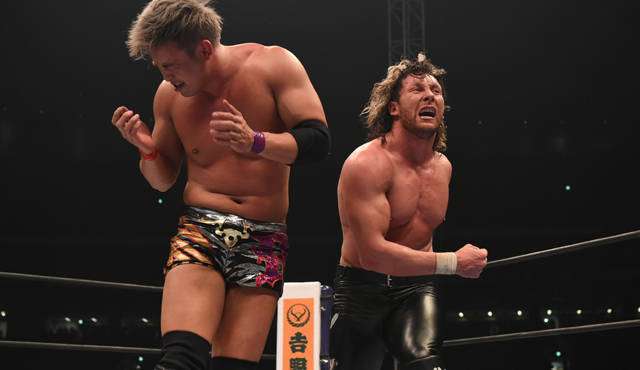 Kenny Omega vs. Kazuchika Okada – NJPW Wrestle Kingdom 11
Leading up to this bout, I was expecting it to be nothing but incredible: I wrote about it multiple times in 2016, and it even topped my list of the things I was most looking forward to in 2016. As good as I expected it to be though, I could never have predicted the unbelievable epic we were treated to on January 4th.
This 45 minute match had something for every type of wrestling fan – technical wizardry, world-class storytelling, stiff hard-hitting strikes, one of the most ridiculous table spots in history, and more false finishes than you can count. It was a work of art that I couldn't take my eyes off. I was fully sucked in to the tension and the drama as I sat on the edge of my seat. Every time I thought, "This has got to be it", the match continued to go on as I gasped with surprise and excitement. Omega hit Okada with almost every move in his arsenal, including a devastating Super Dragon Suplex, but he could not connect with his most dangerous weapon – The One Winged Angel. After a ridiculous amount of Rainmakers, the 6-star epic was finally over, and the wrestling world exploded. We were only four days into the year at this point, but I already knew that nobody could top this match in 2017… until….
Kenny Omega vs. Kazuchika Okada – NJPW Dominion
It turns out the only people capable of beating that match from January 4th were the same two men that were involved in it. Normally, I'm not much of a fan of long matches – it's very difficult to keep up an entertaining pace for over 45 minutes without having significantly long moments of uninteresting action. But for two of the best wrestlers in the world, more time in the ring just means more time to show off how incredible they are.
Simply put, Kenny Omega vs. Kazuchika Okada from NJPW Dominion is a perfect professional wrestling match. There's a reason why it's Dave Meltzer's highest rated match of all time. This match just built and built and built to create an incredible story. At the forty-minute mark, I literally couldn't sit down because of the tension. I was stood pacing around the room gasping and wrestling with the butterflies in my stomach – I didn't care if my family thought I was pathetic, I was completely invested in the epic I was witnessing. The story followed from their first bout – Omega tried and tried again to hit his signature One-Winged Angel, but to no avail. They traded the most vicious of strikes, the most awe-inspiring of moves, and plenty of signature moves, until Omega finally managed to hit his finisher, but when it all seemed like it was over, Okada actually managed to kick out to the shock of everyone. They battled on, unleashing everything they had on each other, but neither man could clinch the three-count. The announcer was counting down towards the time limit as the two rivals traded blows. With 30 seconds left, Okada hit one hell of a Rainmaker, but he was too battle-worn to make the cover. He crawled across the floor as they time ticked away, but just as he was about to cover Omega, the draw was called in one of the most impeccable finishes to a match I have ever seen.
Normally, I would see a draw finish as a bit of a cheap ending. With matches as monumental and important as this, we all want a definitive winner, but after seeing these two athletes completely destroy each other for one whole hour straight, for neither man to be able to better the other no matter how hard they tried, it told the perfect tale and it made for the perfect ending to the perfect match.
CLICK HERE FOR THE TOP 10 KENNY OMEGA MATCHES
2017 has been a landmark year for pro wrestling. I fully believe that we are experiencing a golden age in the quality and worldwide popularity of this sport, so let's hope this wave of momentum carries on well into 2018, and beyond.