2017 has almost come to an end. In my opinion, this has been one of, if not the best year for pro wrestling that I've ever been witness to, especially when it comes to match quality. Full of amazing moments, history-making matches, and an endless amount of fantastic content for any type of fan to enjoy around the world, wrestling in 2017 has truly been a gift to us all. But with a year so packed full of scale-breaking MOTY candidates, shocking moments, history-making events, and breakout performances, how am I supposed to whittle down an impressive selection of nominees into the best of the best?! Well, after twelve months of deciding, I am proud to present the End of Year Hairy Awards – a celebration of the greatest wrestlers, matches, performances, etc in the world of wrestling in 2017. As it has been such a fantastic year, I'm keeping these awards as positive as I can, so look elsewhere for your negativity (but please stay on my website, I beg of you). With that being said, let's take a look at the (not so) prestigious winners.
CLICK HERE FOR MORE BEST OF 2017 CONTENT
Tag Team of the Year – War Machine
As great as the matches between The Usos and New Day have been this year, how entertaining Breezango have been, and how unbelievably popular the Young Bucks continue to be, no team has entertained me more than War Machine in 2017. I began watching Ring of Honor at the very beginning of 2014, when both future members of War Machine, Hanson and Raymond Rowe, were competing in the promotion's annual Top Prospect tournament. These two men were the clear standouts of the competition, both displaying impressive athleticism, enjoyable movesets, and damn fine facial hair. Not long after the tournament wrapped up (which was eventually won by Hanson, beating Rowe in the finals), the two bearded behemoths formed a budding tag team, showing instant chemistry and sporting a fantastic, intimidating look. By the time 2017 rolled around, War Machine had perfected their packaging and in-ring work, so much so that they won New Japan's IWGP Tag Team Championships on two occasions this year. With a variety of great double team moves, and their own set of rules to play by, War Machine are a delight to watch every single time they perform.
Admittedly, the competition for this award was extremely fierce, yet what really put War Machine above the rest was their acts outside of the ring. Rowe and Hanson are two of the friendliest people in the business that I've ever met at a show. They will happily give up their time to chat with everyone that wishes to speak to them, and they're always up for an awesome photo, hence why Hanging with War Machine has now become a thing. What's more, when recent discoveries came to light about Michael Elgin, Rowe and Hanson were not shy about expressing their opinions. Rather than shy away from the issue and avoid controversy, they openly shared their views with the world, going as far to scream "Fuck Michael Elgin" during a live World Tag League broadcast.
For being lovely human beings, and most importantly, the best tag team wrestlers on the planet right now in my opinion, War Machine have earned themselves my Tag Team of the Year award.
Day of the Year – Rusev Day
Thanks to Rusev, every day is now the greatest day of the year!
Global Domination Award – Bullet Club
Here is a list of some of the things Bullet Club have achieved in 2017:
Won multiple titles, including the ROH World Championship, IWGP Junior and Heavyweight Tag Team Championships, WCPW/Defiant Wrestling Championship, NEVER 6-Man Championships, Ring of Honor Tag Team Championships, Ring of Honor 6-Man Championships, and IWGP US Heavyweight Championship.
Signed a deal with major retail chain Hot Topic to have their merchandise sold in their stores.
Sold out t-shirts in Hot Topic stores across Canada and US, selling 417,430 in 4 months according to OneHourTees, and having the best selling shirt of the month over major brands such as Rick and Morty.
Signed a deal with Funko to create their own line of pop vinyls.
Amassed over 150,000 subscribers to their popular YouTube series, Being the Elite (which I have made an appearance on).
Wrestled alongside actor Stephen Amell, star of Arrow.
No faction outside of WWE or WCW have achieved success and popular anywhere close to Bullet Club. Their global reach and merchandising is unbelievable at this point. They have completely taken over the wrestling world in a way never seen before.
CLICK HERE FOR MY CANDIDATES TO JOIN BULLET CLUB
Most Underrated Performer of the Year – Drew Gulak
Drew Gulak is one of the best technical wrestlers in the world today. You may not realise it, given the limitations presented by his position in WWE's cruiserweight division, but go and watch some of his work in Chikara and CZW during his independent days, and you'll see why he's so talented. Despite his grappling abilities, and the great matches he's put on in 2017 on 205 Live this year, it's down to Gulak's personality and promos that have earned him this award.
Hardly anyone in WWE has their character perfected down to art form like Drew Gulak has. Every single time he holds a microphone in his hand, he makes me smile with his love for order, rules, and general fun-spoiling. One of the most entertaining running themes of 2017 has been Gulak's PowerPoint presentation. Having his beloved slideshow being interrupted week-on-week always provides hilarious results, and has gifted us with wonderful quotes such as, "There's a time for clip art, and there's a time for action." Unfortunately, the world isn't talking about Gulak's entertaining antics as much as they should, possibly down to how little most seem to care about the division he is in. Hopefully though, if Gulak continues to put on immaculate performances every week, gets more opportunity to display his technical abilities, and perhaps stray away from the cruiserweight division, possibly in the upcoming Mixed Match Challenge tournament, he will finally get the recognition he deserves.
Umbrella of the Year – Marty Scurll's
As great as William the Third has been in 2017, particularly during No DQ matches on 205 Live, as well as in the Royal Rumble match, only one umbrella has reigned supreme. Back in May of this year at ROH War of the Worlds, Marty Scurll stood in the ring across from Adam Cole, unfolded his signature umbrella, and revealed a beautiful brolly sporting the gigantic logo of his newly-joined faction, Bullet Club. The ROH crowd that night exploded for the newest BC member, and fans around the world instantly fell in love with that umbrella. When it was first added to ProWrestlingTees.com , the website crashed within minutes due to ridiculously high demand. What's more, the original Bullet Club brolly used by The Villain himself sold for £2050 just a month after it was first unveiled. For those of us who don't have a spare couple of grand to spend, both Wrestle Crate UK and Pro Wrestling Crate gave away their own fantastic officially licensed Scurll umbrellas (both of which I own), perfect for causing a spot of bother on a budget. You know an umbrella deserves an award of some kind when it sells for more than two G's, and given the roll both Scurll and Bullet Club are currently on, I'm sure we will be seeing more of this beautiful brolly in 2018.
Finisher of the Year – One-Winged Angel
Although Aleister Black's awesome Black Mass spin kick was a very close contender, this honour had to go to the best finisher in New Japan today. Kenny Omega has accomplished so much in the past year, and every single one of his major, history-making victories have been thanks to the One-Winged Angel. This angel sends anyone who falls victim to it falling from the heavens and soaring to Earth right on their head, neck and back, setting Omega up perfectly to seamlessly transition into a pin, closely followed by a winning three count. Perhaps it's my love for Omega that makes me slightly bias towards it, yet whatever the reason, there is no denying that this move is a deserving winner of finisher of the year.
CLICK HERE FOR MORE OF MY FAVOURITE FINISHERS
Breakout Star of the Year – Pete Dunne
The UK wrestling scene is on fire right now. Independent promotions around the country are filling arenas, and the talent on their rosters are the talk of the wrestling world. In fact, this scene is so brimming with potential right now, WWE wanted to capitalise on it with it's own division. In January, the first WWE United Kingdom Champion was crowned during a tournament inside the beautiful Empress Ballroom, and the belt itself was even more stunning. Sadly, a weekly UK show on the WWE Network has yet to come to fruition, but we were still treated to plenty of appearances on NXT, 205 Live, and even Monday Night Raw from the UK talent. And who could forget the incredible UK Championship match we saw at NXT Takeover: Chicago, many people's pick for WWE's Match of the Year.
Of course, the division's standout talent has to be current champion, Pete Dunne. Given how much praise Triple H and William Regal have given him, the fact HHH accompanied him to an ICW show in November, and his recent debut win against Cruiserweight Champion Enzo Amore on Raw, it's clear that the company are extremely high on The Bruiserweight, and it's easy to see why. With a face that just screams out villain, Dunne is designed to be a heel, but his amazing in-ring ability makes it hard for fans to boo him. He's one of the most promising young talents in the world, and when he does eventually transition to a full-time WWE schedule, hopefully he will be the main-eventer he deserves to be.
Commentator of the Year – Corey Graves
This award could have easily gone to the best play-by-play in the game, Mauro Ranallo, or the incredibly entertaining Don Callis for his work in New Japan, but I have to give it to Corey Graves, who every week shows why he is far above the rest of his peers on both Raw and Smackdown. There's a reason why Corey has been granted the honour of commentating of both of WWE's biggest shows – it's because he's just that damn good. Delivering memorable phrases, jokes, and the unrivalred smoothness devoid of mistakes, Graves is the best live weekly commentator in the world today. Although others could potentially shine brighter in a single show than Graves could, it's Corey's consistency for greatness that earns him my Commentator of the Year award.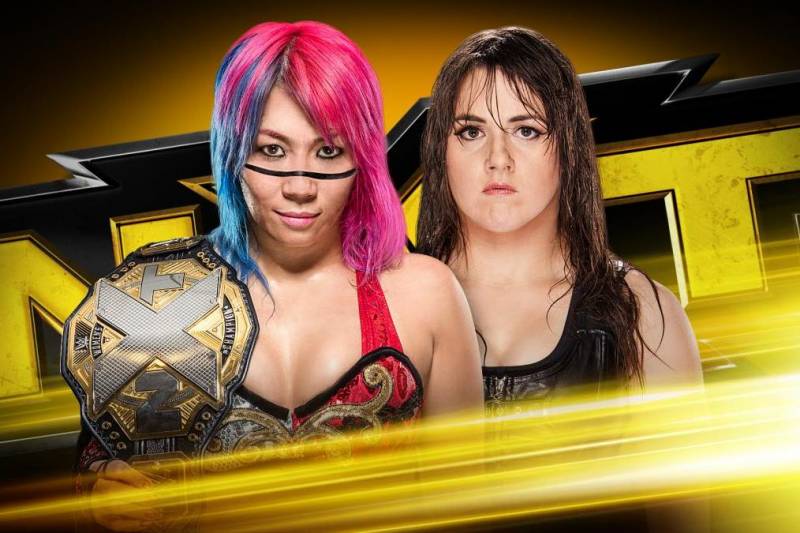 Most Underrated Match of the Year – Nikki Cross vs. Asuka
Despite being one of the best matches ever seen on NXT TV, this match sadly and surprisingly did not get the praise and attention it rightfully deserved. In a week that saw women main event WWE's main three television shows, the best of them all came from NXT – a Last Woman Standing Match for the NXT Women's Championship that will never be forgotten. What made this match so outstanding was the dedication to both women's personas: Nikki Cross literally never stops being in character no matter what is happening within the ring, whilst Asuka is without doubt the hardest-hitting woman in WWE, and the most willing to take punishment.
Earlier in the night, the drama started as Nikki Cross jumped on-top of Asuka's moving car. Then before the match started, Cross waited in the ring, repeatedly saying her opponent's name, biting the ring ropes, and flailing her body around. Cross' perfect character work really made us feel like anything could happen in this match, and that we were about to see something crazy and incredible – and that's exactly what we got. Cross vs. Asuka may be the most violent WWE women's match we've ever seen. These two future main roster stars threw everything at each other, including chair shots, moves onto the apron, and moves onto chairs, but they both still got up. The story of Asuka being so unbeatable throughout was told impeccably – she even managed to stand up after a hung-up spinning neckbreaker to the floor outside the ring. Ultimately, it was an insane superplex off a ladder onto an announce table that ended this unbelievable brawl, as Nikki lay still at the ten count, and the unbeatable Asuka barely stood tall.
Shock of the Year – Jericho in New Japan
After an insanely good match against Trent Barreta at NJPW Power Struggle on November 5th, Kenny Omega stood in the ring and proclaimed that nobody would challenge him to a match at Wrestle Kingdom (the company's biggest show of the year) because he had beaten everybody in New Japan. Just as his promo came to an end, the arena went black, and a dark figure appeared on the screen.
At first, fans thought we were finally going to discover the identity of Switchblade, a mysterious character that had been airing vignettes since this year's G1 Climax Finals back in August (who's identity was revealed later in the show, click here to find out more), but then, a familiar sound blasted through our speakers. It was the fantastic song Judas by Fozzy, a band who's lead singer is none other than one of the greatest of all time, Chris Jericho.
Fans around the world instantly gasped as the former six-time world champion appeared on screen, sporting a much darker, far more serious persona than we have seen him adopt in the last eighteen months. The Sixty-one Minute Man held up a photo of Kenny Omega, his fellow Winnipeg brethren, tore it in half, and issued a challenge to him on January 4th. With a look of wild excitement on his face, the IWGP US Champion accepted, and the biggest match in New Japan Pro Wrestling history was made official.
Jericho shocked us once again when he appeared at the World Tag League Finals, and assaulted Omega in one of the most brutal beatings we have ever seen him dish out in his career. The chaos continued at the Wrestle Kingdom press conference the following day, where both men were pulled apart after attempting to pull each other apart.
Unlike most events or announcements in the world of modern pro wrestling, Jericho vs. Omega was not spoiled by anybody. Nobody reported on even the possibility of this happening because due to how monumental it actually is, no fan or journalist in the world thought this was even within the realms of maybe taking place. Omega vs. Jericho is an actual dream match that will take places before our very eyes – two Winnipeg natives with incredible characters, world-class talking abilities and not to mention unrivalled skills within the ring facing off in a clash of two genuine GOATs.
What makes this such a monumental shock is that it didn't even seem like something that could have ever officially happen, especially inside a New Japan ring. Chris Jericho has competed everywhere in his career, from ECW to WCW to CMLL to even New Japan in the mid-90s, but he has been a WWE-exclusive talent since he made his unforgettable debut in 1999. Sure, he takes regular leaves of absence from the company, but he never has stepped foot inside another promotion's ring in that time, and always comes back to the house of Vince McMahon. At this point in his career, Jericho is associated massively with WWE, but for the first time since 1999, he will compete elsewhere, against a non-WWE talent who just happens to be one of, if not the best quality wrestler in the world today.
CLICK HERE FOR AN IN-DEPTH ARTICLE ON JERICHO VS. OMEGA
Most Beautiful Championship – WWE United Kingdom Championship
Just look at it, it's a work of art. If only we saw this absolutely gorgeous title belt on the network more often.
Segment of the Year – Festival of Friendship
No segment was more perfectly executed in 2017 than The Festival of Friendship. Showgirls, a magician, Chris Jericho in a matching sparkly hat and jacket, it had it all. Beginning with a series of hilarious gags, the segment turned into a true reflection and love letter to the time Chris and Kevin had spent together. It was a lovely reminder of how insanely entertaining the two had been during their run as a team, with Jericho going as far to say it was one of his favourite times in his entire career. But then, the heartbreak began. After the two buddies exchanged "I love you"'s, Owens handed Jericho a gift of his own – a new list. The joy on Y2J's face suddenly vanished as he uttered the soul-destroying phrase, "How come my name's on this?" He peered at the back, saw it was in fact The List of KO, and looked up for just a split second as his former best friend began to destroy him. The friendship was over, and as sad as that was, it was one of the best segments I have ever seen.
CLICK HERE FOR MORE HIGHLIGHTS OF 2017
Podcast of the Year – Edge and Christian's Pod of Awesomeness
It may have only come to life in 2017, but E&C's Pod of Awesomeness has already become my favourite wrestling podcast by far, thanks to the hilarious banter between these life-long friends, the variety of different segments including answering machine messages and Tales from the Indies with Tommy Dreamer, and world-class guests, including Kevin Owens and John Cena. As great as other pods are, particularly Tuesday Night Jaw, Going in Raw, and Talk is Jericho, E&C's is the only one I will listen to from start to finish every single week. If you're yet to check out the podcast that totally reeks of awesomeness, I couldn't recommend it more.
Wrestler of the Year – Kenny Omega
No wrestler has put on a better show between those ropes in 2017 than Kenny Omega. Out of my Top 20 Matches of the Year, Kenny Omega was a part of seven of them, with four honourable mentions as well. And that's not just me that thinks Omega's matches have been outstanding this year. Dave Meltzer awarded Omega a record four match ratings over five stars in 2017, and he has the highest average top ten match ratings in 2017 out of every wrestler on the planet. Kenny Omega really is the best in the world right now, at least in my opinion anyway. Every aspect of his arsenal fits what I want to see in a wrestling match, and he continues to incorporate new and interesting ways to entertain. If Kenny Omega is in the ring, it's bound to be incredible. What's more, Omega is not just a fantastic wrestler, he is also one of the best on that microphone, in both English and Japanese, which has helped him become the icon that he is today. 2017 was the year of Kenny Omega, and with his skills, popularity and marketability, it seems as though he will be having great years for a while to come.
IF YOU'RE YET TO WITNESS HOW GOOD OMEGA IS IN NEW JAPAN, CLICK HERE FOR MY BEGINNER'S GUIDE TO NJPW
Match of the Year – Kenny Omega vs. Kazuchika Okada: NJPW Dominion
Usually, I'm not much of a fan of long matches – it's very difficult to keep up an entertaining pace for over 45 minutes without having significantly long moments of uninteresting action. But for two of the best wrestlers in the world, more time in the ring just means more time to show off how incredible they are.
Simply put, Kenny Omega vs. Kazuchika Okada from NJPW Dominion is a perfect professional wrestling match. There's a reason why it's Dave Meltzer's highest rated match of all time. This match just built and built and built to create an incredible story. At the forty-minute mark, I literally couldn't sit down because of the tension. I was stood pacing around the room gasping and wrestling with the butterflies in my stomach – I didn't care if my family thought I was pathetic, I was completely invested in the epic I was witnessing. The story followed from their first bout – Omega tried and tried again to hit his signature One-Winged Angel, but to no avail. They traded the most vicious of strikes, the most awe-inspiring of moves, and plenty of signature moves, until Omega finally managed to hit his finisher, but when it all seemed like it was over, Okada actually managed to kick out to the shock of everyone. They battled on, unleashing everything they had on each other, but neither man could clinch the three-count. The announcer was counting down towards the time limit as the two rivals traded blows. With 30 seconds left, Okada hit one hell of a Rainmaker, but he was too battle-worn to make the cover. He crawled across the floor as they time ticked away, but just as he was about to cover Omega, the draw was called in one of the most impeccable finishes to a match I have ever seen.
Normally, I would see a draw finish as a bit of a cheap ending. With matches as monumental and important as this, we all want a definitive winner, but after seeing these two athletes completely destroy each other for one whole hour straight, for neither man to be able to better the other no matter how hard they tried, it told the perfect tale and it made for the perfect ending to the perfect match.
CLICK HERE FOR MY TOP 20 DAVE MELTZER FIVE-STAR RATED MATCHES
2017 has been a landmark year for pro wrestling. I fully believe that we are experiencing a golden age in the quality and worldwide popularity of this sport, so let's hope this wave of momentum carries on well into 2018, and beyond.