Buy Hairy a Coffee
As somebody that adores New Japan Pro Wrestling, I absolutely love helping new and curious fans get into what I believe is the best quality grappling promotion in the world. In the past, I've written a beginner's guide to the promotion's biggest event, Wrestle Kingdom, and a guide to how to start watching NJPW. During my time trying to help New Japan Newbies, I've seen a few questions being asked repeatedly, both to myself and across social media and message boards: What is a "Young Lion"? Why are there wrestlers all wearing the exact same black boots and trunks? Why are people stood around the ring wearing red trousers and getting repeatedly beaten up?
The world of New Japan can be confusing at first, yet incredibly fascinating, and I wanted to delve into one of it's most intriguing features – the Young Lions, NJPW's iconic rookie system that has produced the biggest stars in Japanese history. Whether you're completely clueless or just looking to expand your knowledge, my guide goes through the entire Young Lion process, the history of the system, and other important details, all summed up in brief bullet points. So wonder about these mysterious trainees no more, here is The Young Lions Journey: A Guide to New Japan's Rookie System.
CLICK HERE FOR MY GUIDE THROUGH THE HISTORY OF NJPW
The Basics
– The term "Young Lions" refers to New Japan's group of rookie wrestlers, who train and live at their dojo.
– The name comes from the company's logo, which is known as "The Lion Mark".
– Like any promotion, New Japan are constantly looking to create new stars. Any major wrestling company prefers to craft their biggest players from scratch so they can mould them how they want to every step of the way, hence why so much attention is placed onto the Young Lions.
– Rather than having a developmental territory or system, such as WWE's Performance Centre and NXT, New Japan have a small group of trainees within their grasps, that learn under and perform alongside established roster members.
– Young Lions, often referred to as "young boys", are not scouted by New Japan, hopefuls must apply to attend a training session at the dojo, where only a select few will then go on to be accepted. Already signed wrestlers can recommend potential trainees, like Prince Devitt and Bad Luck Fale did with Jay White, but the wannabee rookie still must apply.
– Young Lions live at the New Japan Dojo with their senpais (teachers), all of which have historic careers within the company
– As well as daily training, Lions are subject to menial labour (food preparation, laundry duties, carrying bags and serving their teachers, etc) every day in order to create humility and respect, two traits which are massively important in Japan.
– Lions are not allowed to leave the dojo unless supervised by a senpai.
– If you're a Japanese wrestler, you don't have to have gone through the young lion system in order to be a member of the New Japan roster. In fact, current LIJ member Sanada applied for a position in the NJPW dojo (interestingly in the same training session as stablemate Tetsuya Naito), but was denied a placed so he ended up training with All Japan Pro Wrestling. After honing his craft across the world, Sanada finally made it to New Japan in 2016
History
– The New Japan Dojo, and subsequently the Young Lions system, were both established in 1972, when NJPW was founded by legendary Japanese star, Antonio Inoki.
– The first graduates of the New Japan Dojo were Gran Hamada and Mr. Pogo.
– List of former graduates include Shinsuke Nakamura, Kazuchika Okada, Hiroshi Tanahashi, Jushin Thunder Liger, The Great Muta and more.
– The Dojo has gone through little renovations or changes since 1972, as has the Young Lions training system.
– New Japan once opened a Dojo in California. Trainers included Samoa Joe, Rocky Romero and TJ Perkins. Graduates include Finn Balor, Joey Ryan and Daniel Bryan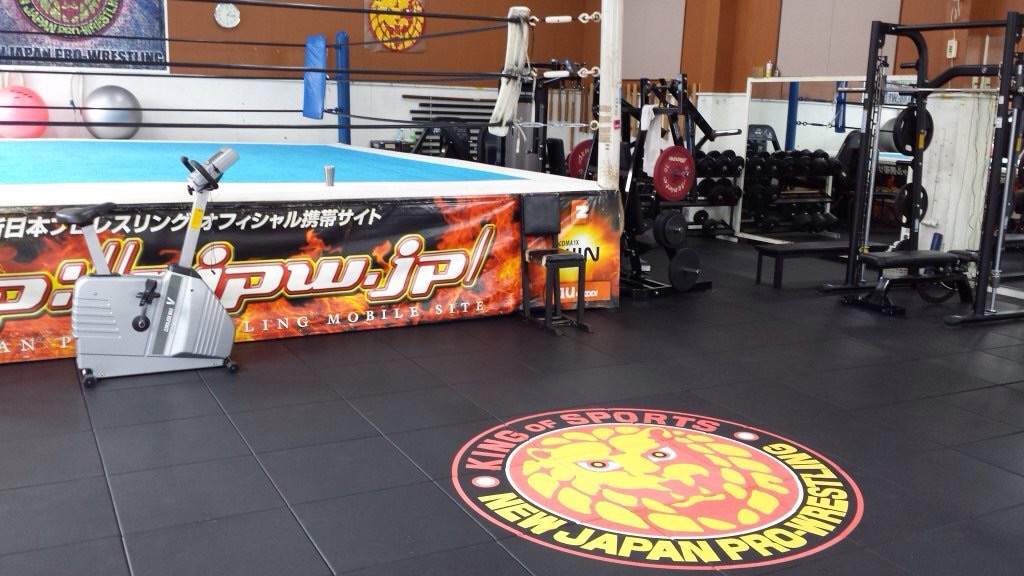 Training
– Lions training revolves around meticulously learning the basics, safety within the ring, and intense physical training, repeating processes again and again until these simple practices are perfected – character and playing to cameras are all learnt later on.
– The NJPW trainers are known to put a lot of attention on training neck and back muscles, as that's where most of in-ring punishment is taken. By strengthening these areas, they are in theory able to bump more often with less damage to their bodies.
– In an interview with RIng of Honor, recently graduated Young Lion, Jay White, stated that:
"Being a 'young boy' is about learning and paying your dues, something that…If you mess up, you know about it, and that usually comes with a few thousand squats. But it's where you earn respect, as everyone here has been through it themselves, and the majority of the time they had it harder in their day."
"The training is completely different to anything I've ever done before. It's insanely intense, and when you hear how many reps of the exercise you've got to do, it sounds impossible."
"It would start at 10 a.m. and on average would last 3 hours, sometimes longer. It's usually a mix of squats, press-ups, pull-ups and rope climbs, core work, bridging and strengthening your neck, as well as a lot of cardio-based exercises, followed by wrestling drills…The training methods are pretty extreme, but the idea behind it is that if you're struggling here but you keep going, then you will be able to keep going when you get tired in a match. But if you give up during training, then you'll give up in a match."
CLICK HERE TO LEARN MORE ABOUT JAY WHITE
– When White says that "The majority of the time they had it harder in their day", he is referring to the strict and painful training methods that used to be employed in the Dojo. In this video showing Antonio Inoki training alongside peers and trainees during his time running the Dojo, Inoki would subject himself and those around him to a daily schedule of physical punishment, enduring exercises such as having somebody jump on his stomach for minutes on end, and having a large club swung into his sternum repeatedly.
– The training regiment has changed a lot in this time, yet the same gruelling amount of consistent dedication still remains.
Matches and Events
– When they arrive at the dojo, all Lions have their heads shaven, and are forced to only wear plain black trunks and black boots throughout their experience.
– Before every New Japan event, Young Lions help set up the ring, as well as fan seating around ringside. During the show, Lions surround the ring, each wearing iconic red sweatpants or a full tracksuit, and New Japan t-shirts. Their roles are to prevent fans from jumping the guard rail, protect fans when wrestlers brawl within the crowd, and bring wrestlers ice packs, towels and anything else they may need.
– Young Lions are regularly attacked by heel wrestlers, mainly by the likes of Minoru Suzuki who has made it a signature of his. Usually after a loss or frustrating moment, Lions are treated like punching bags to absorb their superior's aggression. They are always portrayed as being weak, and are never allowed to respond to the violence they experience.
– When they are ready, Young Lions begin to compete in the undercard of select New Japan shows, either in singles matches against each other or in 6, 8, or 10-man tag matches alongside the most experienced members of the NJPW roster, such as Jushin Thunder Liger, Kojima and Tiger Mask. Occasionally, New Japan holds events and tournaments just for Young Lions.
– Young Lions never win against established roster members, and will always be the recipient of the decisive pin in a tag match.
– When they first begin to have matches, a Young Lions' moveset is restricted only to an extremely simple set of moves – headlocks, body slams and their finisher, a Boston Crab. Overtime, they are gradually allowed to include more and more basic moves into their arsenal (tackles, hip tosses, dropkicks), until eventually they can establish their own small moveset and finishing move.
– Young Lions all have the same character: they're essentially portrayed as just men with an intense love for pro wrestling. There are no heels or faces, just hungry young boys with a desire to wrestle. With no flamboyant character to act within, these rookies are able to make mistakes without fan backlash, focus more on their match quality, and their simple, sympathetic personas allow them to connect easily with fans.
Foreign Excursions
CLICK HERE FOR A LIST OF THE BEST EVER NJPW FOREIGN EXCURSIONS
– Part of the Young Lion experience is going on a foreign excursion. Lions travel to another country for an undisclosed amount of time and work within one or two different promotions, where they are able to explore who they are as a wrestler and develop a character for themselves.
– Promotions that New Japan has worked with in the past decade include: TNA, ROH, RevPro, NWA Houston, WCC (Pueto Rico), CMLL, amongst others.
– In recent years, NJPW have favoured sending their Lions primarily to Ring of Honor and CMLL, two popular organisations that can give the rookies a lot of exposure and the chance to work with a lot of established talents.
– Excursions can last anywhere from a few months to a few years.
– In rare cases, some Young Lions aren't sent away on excursions (Juice Robinson for example), whilst the likes of Hiromu Takahashi spend years away from New Japan, with high levels of success. Jay White went undefeated in Ring of Honor during his excursion for nearly nine months, whilst Takahashi had a very successful run in both CMLL and ROH lasting two years, developing the hottest rivalry in CMLL with Dragon Lee, a feud that even ended up in New Japan.
– Excursions allow Japanese wrestlers to experience different styles of wrestling, different characters, and even different types of wrestling fans. You may not realise it, but the fans talents work in front of can potentially have a massive impact on how they work and how their persona develops. Take current main-event megastar Tetsuya Naito, leader of Los Ingobernables de Japon. From May 2009 to January 2010, Naito was on excursion with Mexican company CMLL. During his time there, Naito was subjected to a lot of racially charged fan abuse whilst in the ring, regularly being told to "open his eyes" due to his Japanese ethnicity. In response, Naito began holding one of his eyes open to taunt the crowd, and learnt how to act as a heel to spark heat from the crowd. This CMLL run taught him how to work heel in front of crowds and would ultimately help develop the persona he holds today. After working many years as a straight-forward babyface back in NJPW that was finding little success with fans, Naito returned to CMLL in 2015, completely overhauled his character, joined Los Ingobernables, and brought his own sub-faction back to Japan with him, which all in turn led him to being arguably the most popular wrestler in his native country right now. If it wasn't for his time spent in another nation, Naito would have never been exposed to his adopted tranquilo ways, and New Japan would not have the global superstar they do today.
Graduation
– Once their foreign excursion is up, Young Lions return to New Japan, usually with a new name and new persona, and thus, their status as a Lion is officially over.
– Traditionally, Young Lions are immediately given a huge push once arriving back in the company. Current Junior Division tag team, Sho and Yo of Roppongi 3K, won the IWGP Junior Heavyweight Tag Team Championships in their first match back from excursion, and Kazuchika Okada won his first-ever IWGP World Heavyweight Championship just two months after making his full-time return to New Japan.
– When graduated Lions finally return to New Japan with a new character, the contrast is so vast that they instantly look like they've improved massively, and are primed to be a huge star, hence why they are often immediately propelled into major feuds and title victories.
– Young Lion journeys help graduates win over fans once they make their return. Long-time viewers get to see the rookies go through their experience every step of the way, leading to fascinating results and strong emotional connections. Seeing them go from opening matches in all black attire to facing legends at huge events, like we saw Jay White do at Wrestle Kingdom, is a fantastic experience in my opinion.
– Once a young lion graduates into their new persona, their time as a rookie isn't forgotten or swept under the rug. In fact, Young Lion experiences have been used on various occasions to advance feuds and improve in-match storytelling. In 1991, up-and-coming stars Keiji Mutoh and Masahiro Chono met in the first-ever G1 Climax tournament finals. The two started their young lion journeys together, facing each other in their first NJPW matches, and multiple times throughout the starts of their careers, developing a lot of friendly competition. Fans had seen these two men grow and develop together from their days as black trunk wearing rookies, so to see them face each other on such a huge stage with so much on the line drove them crazy. Their relationship and history is what thrust this main-event bout into true legendary status within the company.
Not All Young Lions are Treated the Same
– Current Young Lion, Katsuya Kitamura, is a 32 year old former bodybuilder and amateur wrestler. In a short amount of time, Kitamura has managed to amass a strong fan following due to his unique look and personality.
– Kitamura is the least 'young boy' Young Lion I have ever seen, and proof that not all of New Japan's rookies are treated the same.
– Despite being a part of the company for less than a year, Kitamura has already been allowed to develop his own taunts, his own moves, a finishing move, allowed to have singles matches with the likes of Jay White, and wear a vampire fang mouthguard, all of which within a much faster amount of time than what is normally expected.
– Kitamura has had to obey by the basic rules of the system (living at the dojo, wearing black trunks and boots, shaving his head, etc), yet he has been allowed to flourish and develop far quicker than each of his peers.
– Despite technically being a young boy that trains at the NJPW Dojo, current roster member Leo Tonga never appeared in traditional Lion attire. In fact, his first non-dark match for the company were alongside his brothers, the Guerillas of Destiny, where he was immediately made a member of Bullet Club. Even though he is never placed into significant matches or victories, Tonga has advanced passed the black boots stage of his journey and is a part of the biggest faction in the world, due to his size and heritage.
– Although NJPW are strict with their traditions and systems, they do not treat every wrestler's journey in the same way. There is no set amount of time for each stage in the Young Lion journey, students are advanced through when the company believes they are ready. Some spend months in the system, some spend as long as over five years (foreign excursion included).
The Dark Side of the Dojo
IMPORTANT: There are many accusations and rumours surrounding the treatment of trainees in the New Japan Dojo over the years, however I must state that due to how secretive and protective their training system is, the vast majority of these accusations have no concrete proof to them. It is accepted that dark events have taken place within NJPW's training system over the years, but we must also accept that such a reputation brings along a lot of fabricated stories and details, so we cannot immediately assume everything is the truth.
– A system that is so punishing, so demanding, and so physical is sadly bound to be accompanied by dark moments in its history.
– Throughout the years, many stories and rumours have come out of the New Japan Dojo of physical, emotional and even sexual abuse, as well as mental and physical hazing, including being forced to consume their own bodily fluids.
– Not all horror stories are from New Japan though. The senpai-kohia dojo system is a tradition in Japan, and used across most promotions in the country – New Japan's Young Lions just happen to be the most well-known, and most iconic.
– WWE Hall of Famer Stan Hansen states that he regularly saw trainees being tortured before live events in Japan, to the extent that they would leave with internal injuries. He says that their cruel training allows them to absorb pain and turn their bodies into stiff Japanese steel, able to endure the traditionally stiff Japanese style.
– Possibly the most infamous story to come out of the New Japan Dojo is the death of trainee, Hiromitsu Gompei, in 1995. According to those in the Dojo, Gompei took a bad bump during training, suffering a fatal brain injury, however it is widely believed that his death was a result of Kensuke Sasaki, Gompei's trainer, barraging him with stiff suplexes and holds because he felt he wasn't giving full effort during practice. Despite nobody ever being charged or NJPW speaking publicly in detail about the incident, former roster members such as Bam Bam Bigelow and Scott Norton have spoken out about what happened.
– Although for now we can only speculate whether Gompei's death was a result of a horrible accident or a brutal act of manslaughter, a system that would allow a man to die in such secrecy, mystery and under horrific circumstances has to be condemned, regardless of how he lost his life. Thankfully, practices like these have been long left in the past. The New Japan Dojo does still keep the same focus on passion, dedication and intense training, however the viciousness, malice, and counteractive teaching methods and mindsets are hopefully things of the past.
– As stated earlier, the system has changed a lot in modern times, and practices such as these are no longer present.
How it Differs from WWE's Developmental System
– WWE's training system is traditionally more concerned about creating 'stars' than establishing the best wrestlers possible. WWE's main mission is making money – constructing characters that will ultimately sell tickets and merchandise. The quality of their wrestling is a secondary concern, as long as they can work safe. In New Japan, the initial focus is completely on the fundamentals and basics of pro wrestling, as well as physical training. Characters aren't usually developed until far later in their journey, usually during their foreign excursions.
– Speaking generally, if a wrestler trained to be a television star ends up not attracting the fan attention and merchandise sales the company had hoped, they're left with a wrestler that can't put together a great match and can't get over with fans, which is essentially a waste of money, whereas with the New Japan training method, if after their Young Lion journey their graduates can't get the character side of the industry right, at least they have a solid hand that can put on good matches, work with future young lions, or work within a stable where their lack of charisma can be shrouded.
– WWE's system attempts to create stars much faster than New Japan's. NJPW usually don't give their rookies pushes until they've endured years of training, whereas the likes of Braun Strowman can be skyrocketed to the main roster when they've only had a few previous singles matches in their entire career.
– WWE's system is far less selective. Granted, a lot of the more experienced NXT signees would be signed straight to New Japan's roster, but even if we just took athletes with no or very little previous wrestling experience signed to NXT, the number would far exceed the amount of NJPW's current young lions.
So, now armed with all of this young boy information, the next time you see Minoru Suzuki beat up somebody wearing red sweatpants at ringside, just remember that in a few years time, that human punching bag could perhaps be a world champion. Whatever your opinion of the methods involved within the Young Lions system, there is no denying that it has an incredible track record when it comes to making stars. Almost every major star in the company since 1972 once donned the signature black trunks and boots.
Hopefully you now know everything you need to about NJPW's Young Lions, but if you have any more questions about the system or New Japan in general, submit them to me on Twitter @HairyWrestling and I will try my best to answer them.
MORE NJPW READING
CLICK HERE FOR MY GUIDE THROUGH THE HISTORY OF NJPW