DDT Pro Wrestling is known for being possibly the most ridiculous promotion in the wrestling world. We've all seen the clips and GIFs, we've all sat in awe at how incredibly bizarre the whole thing is – but have you ever bothered to really look into it? Have you ever tried watching a full match? A full event? A match that doesn't involve fireworks or animals or inflatable dolls? Well, if not, you owe it to yourself to check out their streaming service – DDT Universe. But why should you sign up? How do you even sign up in the first place? How easy is it to use? Where do you go to see Joey Ryan use his penis on people? Don't you worry! All of those questions and more will be answered in my exploration of A Dramatically Crazy Universe: A Matchguide and Tips for DDT Pro Wrestling's Streaming Service.
Things to Know About DDT Universe
DDT Universe comes with a ONE MONTH'S FREE TRIAL PERIOD, so if you're still not quite sure if people wrestling invisible men is quite to your tastes or not, you can find out without worrying about your bank account receiving a piledriver in the process
DDT Universe is 900 Yen per month, which works out at just over

£6/$8 per month

, which is cheaper than the vast majority of major pro wrestling streaming services, mainly WWE Network and NJPW World,
You may not realise it, but Dramatic Dream Team was actually founded in 1997, meaning there is a good

two decades of content available

on their streaming service
DDT Pro is one of the few promotions in Japan that allows intergender wrestling……as well as inter-species wrestling (We'll get to that later on)
Despite being known for how ridiculous they can be, DDT has actually been home to some of the best wrestlers in the world over the years, including Kenny Omega, Kota Ibushi, Hiroshi Tanahashi, 'Speedball' Mike Bailey and El Generico. Oh, and Vader's even had a couple of matches there, so that's something
Like most promotions in Japan, DDT has an affinity for MMA, and event holds MMA-inspired events called Hard Hit. The likes of Yukio Sakaguchi provide stiff strikes and headkicks in the midst of blow up dolls and penis suplexes
Sadly, as of this guide's publication, there are no apps or dedicated support from major streaming devices or games consoles. All content can only be accessed through DDTUniverse.com
DDT Universe does not offer any English subtitles or live English commentary, and not all shows have any commentary to begin with. In the past few months they have began adding English commentary onto some of their biggest shows, featuring the likes of Colt Cabana, but these aren't posted until a few weeks after the events take place. You can find all of the English commentary shows here: https://ddtuniverse.com/search?query=english+recap&type=PR&title=%E6%A4%9C%E7%B4%A2%E7%B5%90%E6%9E%9C
The DDT Universe streaming service does not just include content from DDT Pro Wrestling! There are actually multiple smaller promotions under the DDT umbrella that are featured as well.
DNA – A DDT developmental system.
BASARA – Not quite up to the same levels of ridiculousness as DDT, but they don't take themselves too seriously. Within the BASARA subsection is Tavern Wrestling, which holds the wonderfully title Alcohol Mania event.
Tokyo Joshi Pro Wrestling – In Japan, the term "Joshi" refers to female wrestling, and is far different from women's wrestling the West. Although not quite as popular and well-known as Stardom, Japan's foremost Joshi promotion, Tokyo Joshi Pro Wrestling still has a lot of great wrestling content to offer.
RECOMMENDED TOKYO JOSHI PRO MATCHES:
August 26th 2017 – Meiko Satomura vs. Miyu Yamashita https://ddtuniverse.com/program_group/index/20170826_TJP
November 3rd 2017 – Reika Saiki vs. Rika Tatsumi https://ddtuniverse.com/program/index/20171103_REC_TJP
Ganbare Pro Wrestling – Essentially DDT with more violence. You'll see a lot more blood, but only the occassional dance contest or two
Other Brands – Content from defunct promotions or one-off special events, one of which is delightfully entilted "Fuck Z". 
ESSENTIAL – CLICK HERE FOR AN ENGLISH LANGUAGE STEP-BY-STEP GUIDE EXPLAINING HOW TO SIGN UP TO DDT UNIVERSE 
What to Watch: Match and Documentary Recommendations with Links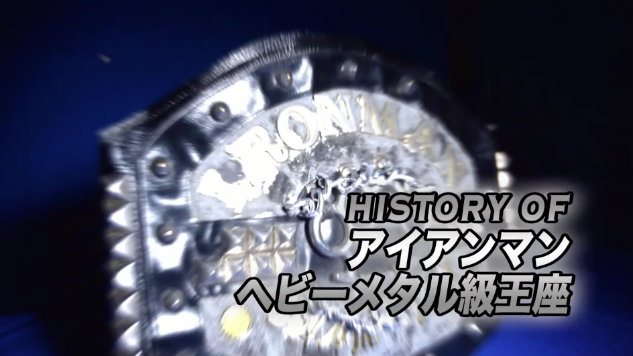 History of DDT Ironman Heavymetalweight Championship – Part One: https://ddtuniverse.com/program/index/SKI-074 Part Two: https://ddtuniverse.com/program/index/SKI-077
CLICK HERE FOR THE TOP 20 WEIRDEST DDT IRONMAN HEAVYMETALWEIGHT CHAMPIONSHIP MOMENTS
If there is one reason to sign up to DDT Universe, it's to watch these two match complications. Since it's inception in 2000, the Ironman Heavymetalweight Championship, a belt that is defended 24/7, has changed hands over 1200 times, and not all of those title holders were human. Former champions include a pair of chopsticks, an invisible man, Vince McMahon's Hollywood Walk of Fame star, a bus, and a dog. This fantastic two-part series takes a look at some of the most weird and wonderful moments in this championship's history since the year 2000 through clips and full matches. You'll see men have a match against a ladder, a human having a boxing match with a real life monkey, a dog pinning a ladder, a baseball bat winning at one point, an invisible man destroying everyone, an invisible man losing the title then winning it back from a man in a thong, then there's the infamous match between Kota Ibushi and a sex doll, Asuka randomly turns up and wins it at one point, then a really expensive painting wins it, there's a rock paper scissors tournament, the doll wins it back, etc etc etc. Just when you think you've seen it all, something insane will come along and blow your mind some more. Despite not having any English subtitles, these documentaries are essential viewing guaranteed to shock you and make you laugh in equal measure.
Kenny Omega vs. El Generico – December 23rd 2012, Never Mind https://ddtuniverse.com/program/index/20121223_DDT_060
Before he took over the world with his six-star matches, Kenny Omega was one of DDT's biggest stars. Whilst he wasn't blowing Dave Meltzer's mind on a regular basis, he was still putting on some incredible matches, one of which was against indie star El Generico, another fantastic grappler. It's a real shame Generico gave up on pro wrestling to work at an orphanage down in Mexico because he clearly had a lot of talent.
CLICK HERE FOR THE TOP 10 KENNY OMEGA MATCHES
HARASHIMA vs. Shigehiro Irie – December 25th 2016, Never Mind https://ddtuniverse.com/program/index/20161225_DDT_070
HARASHIMA is DDT's ace, he's their man. He's won every championship possible on multiple occasions, and what's more, he can put on a damn good match. Just find out for yourself.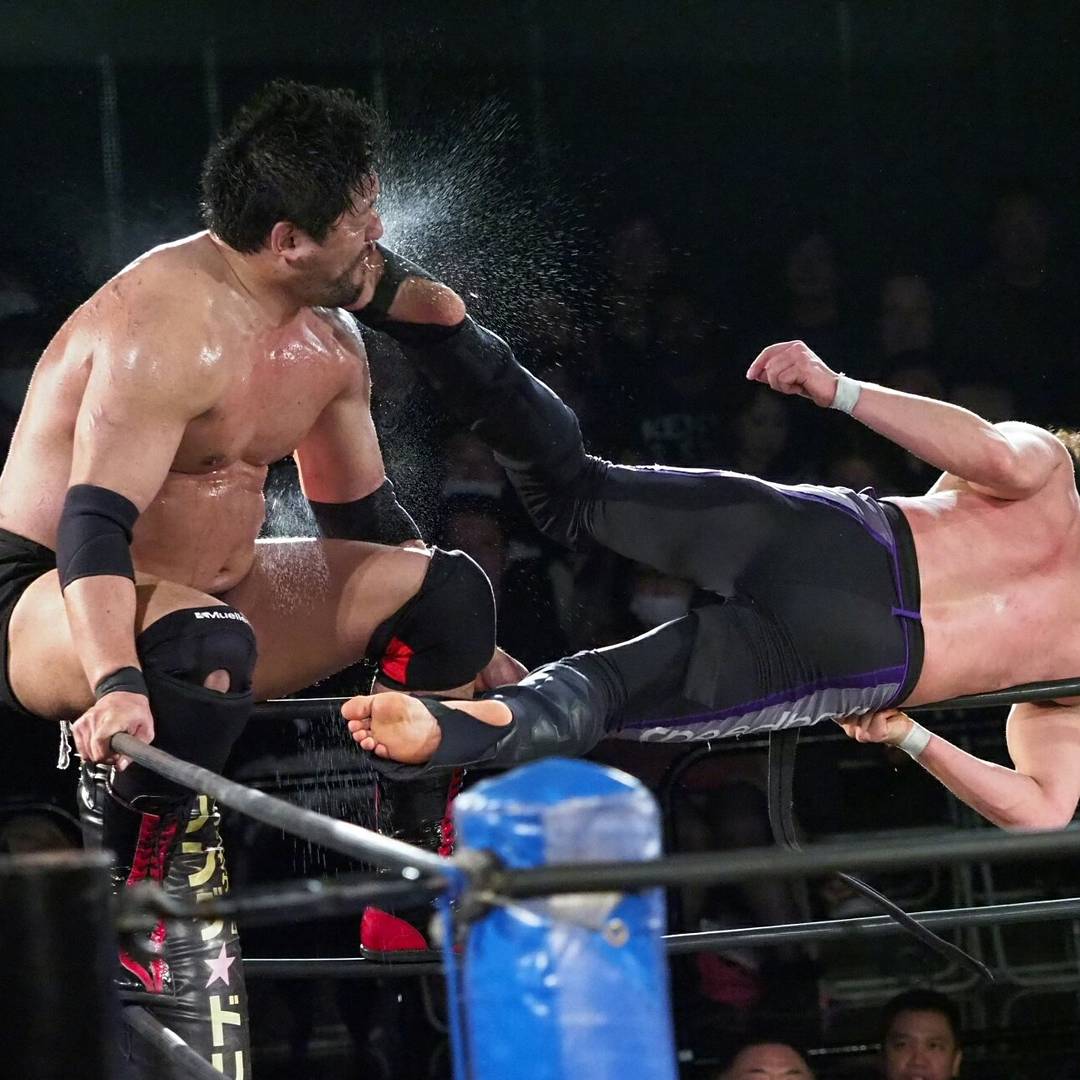 Mike Bailey vs. Shuji Ishikawa – January 5th 2018 DDT D-Ou Grand Prix 2018 In Shinjuku (Skip to 1 Hour 38 Minutes) https://ddtuniverse.com/program/index/20180105_REC_DDT
In my opinion, Mike Bailey may just be the most underrated pro wrestler in the world today. Bailey combines insane quickness with genuine martial arts training, high flying ability, a willingness to destroy himself, and some of the hardest kicks in the business to create an extremely exciting in-ring style. This match from January 5th of this year is already a MOTY contender – it tells the classic David vs. Goliath story perfectly and in very brutal fashion. Without question, this a match you cannot miss.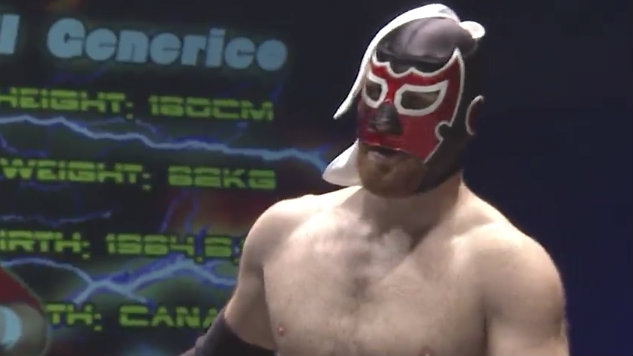 Kota Ibushi vs. El Generico September 30th 2012, Who's Gonna Top? https://ddtuniverse.com/program/index/20120930_DDT_070
Ibushi and Generico had a series of matches together in DDT, and clearly displayed a lot of chemistry together. Sadly, we'll probably never get to see these two stand across from each other in a ring ever again, so you owe it to yourself to check out at least one of their bouts together.
Golden Lovers vs Danshoku Dino & Konosuke Takeshita October 26th 2014, DDT Special (Kenny Omega's final match in DDT) https://ddtuniverse.com/program/index/20140928_DDT_070
Kota Ibushi and Kenny Omega's high profile friendship began when they teamed as The Golden Lovers in DDT. When Kenny was leaving to start full-time with NJPW, the team reunited and had one last match together in a brilliantly emotional affair.
CLICK HERE FOR MY POEM ABOUT THE GOLDEN LOVERS
Yukio Sakaguchi vs. Konosuke Takeshita – June 28th 2015, King of DDT Finals https://ddtuniverse.com/program/index/20150628_DDT_060
Yukio Sakaguchi is a former MMA fighter and movie star. With his long limbs, bleach blonde hair, tattoo-covered skin, and impressive arsenal of streaks, he looks like a freakin' Tekken character. Trust me when I say watching this men kicking people directly in the side of the head is highly entertaining.
Rojo Puroreso AKA Street Pro Wrestling: https://ddtuniverse.com/search?id=330&brand=ROJO%20PURORESU&title_ja=%E8%B7%AF%E4%B8%8A%E3%83%97%E3%83%AD%E3%83%AC%E3%82%B9&type=P
One of the most unique features of DDT Pro Wrestling is the fact they regular host events in very unique locations. Everywhere from beaches to abandoned apartment block buildings, DDT will happily put on a match almost anywhere. These events are known as "Rojo Puroreso" or Street Pro Wrestling. Now, there are way too many of these strange events for me to provide links to all of them, but luckily there's an entire dedicated section just for these outdoor antics which you can find at the link above. Below are a few suggestions of some of the most unique and most entertaining:
Minoru Suzuki vs. Sanshiro Takagi No Fans Street Wrestling Match Throughout All Of Tokyo Dome Part One: https://ddtuniverse.com/program/index/20170601_RJY_FREE Part Two: https://ddtuniverse.com/program/index/20170601_REC_RJY (For some reason it's in two parts) – You've probably seen a gif or two of this match floating around on the internet somewhere. Minoru Suzuki had a match inside an empty Tokyo Dome, the home of Wrestle Kingdom, and delivered a piledriver onto a baseball field.
Campsite Pro Wrestling 2017 (featuring Mike Bailey): https://ddtuniverse.com/program/index/20170903_REC_RJY – An annual tradition in DDT.
DDT Train Pro Wrestling: https://ddtuniverse.com/program/index/20170416_REC_RJY – Yep, they literally wrestling on a train full of passengers.
Go Kart Pro Wrestling: https://ddtuniverse.com/program/index/20150415_RJY_010 – Brawling around a go-kart track featuring Kota Ibushi in a mini-race car. Well worth the 900 Yen a month just for that.
Joey Ryan's Summer Adventure in the USA https://ddtuniverse.com/program/index/IRM2016_SUMMER
You might have heard: Joey Ryan is big in Japan. DDT Pro Wrestling was the place in which the world was first introduced to the power of Joey Ryan's incredible, man-flipping penis. It's his phallic antics that have made him a huge star around the world, and a mainstay in DDT. The clip of Joey's almighty dong was a viral sensation, making him an internet celebrity within days. With Joey's new found online fame, DDT decided to trust Joey Ryan with taking their infamous (and previously mentioned) Ironman Heavymetalweight Championship across the globe for a little summer vacation around the USA. This mini-documentary entertains by showing the various ridiculous title changes that occurred during the summer of 2016, featuring big names such as Scott Hall, X-Pac, John Morrison, Colt Cabana, and more. You'll smile, you'll laugh, and you'll see Spider-Man – what more do you want?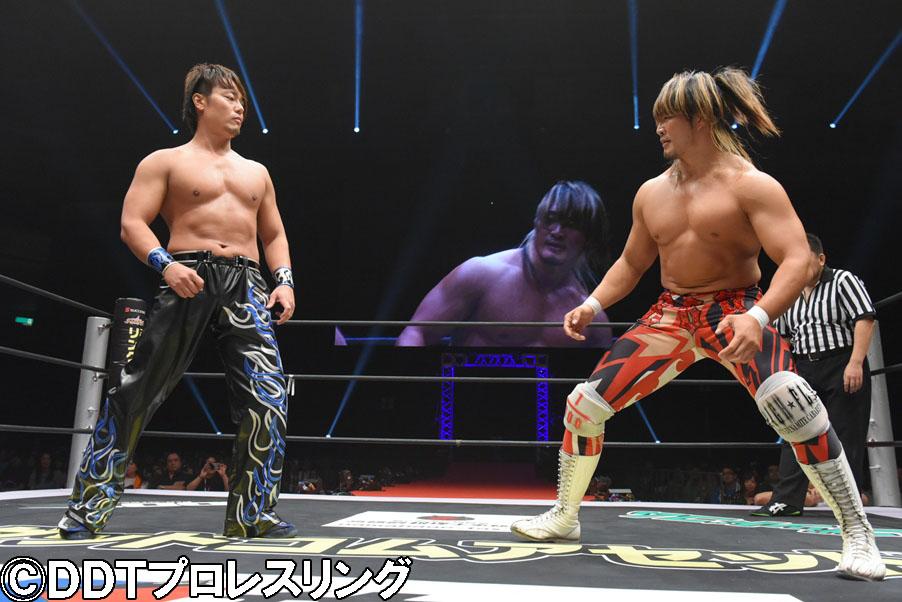 Hiroshi Tanahashi vs. HARASHIMA – August 23rd, 2015 Ryogoku Peter Pan https://ddtuniverse.com/program/index/20150823_DDT_080
Yes, THAT Hiroshi Tanahashi. It was billed as a Dramatic Dream Match – the ace of New Japan vs. the Ace of DDT. In terms of star power and historic value, this may just be the biggest match in DDT Pro Wrestling so far.
Kota Ibushi vs. Kenny Omega – August 18th 2012, DDT Nippon Budokan Peter Pan https://ddtuniverse.com/program/index/20120818_DDT_090
If there is a DDT match that you absolutely need to watch, it's this one. These former teammates and essentially best friends collided in an absolute classic. Their bond and sense of friendly competition is evident throughout, but that didn't stop them from almost killing each other. Full of extremely physical and high risk moves, including a Snap Dragon Suplex onto the ring apron, this match is a wonderful spot-fest that simultaneously tells a story of friendship and years of working hard to reach the top. It's clear how well these two men know each other from this match, and it's the bond they created during their time in this promotion that is still being referenced in New Japan Pro Wrestling today.
CLICK HERE FOR THE TOP 10 KENNY OMEGA MATCHES
CLICK HERE FOR MY POEM ABOUT THE GOLDEN LOVERS
Match Collections
Kenny Omega Collection: https://ddtuniverse.com/feature/news-kenny
Strongest Foreigner Collection (Non-Japanese Wrestlers): https://ddtuniverse.com/feature/news-international 
HARASHIMA and El Generico Collections: https://ddtuniverse.com/feature/news-20170123
Tag Team Collection: https://ddtuniverse.com/feature/news-tagteam
Kota Ibushi Collection: https://ddtuniverse.com/feature/news-ibushi
Problems and Tips for Overcoming Them
My aim for this guide show no bias when educating those that are curious about signing up for DDT Universe or just wanting to check out a bit of DDT Pro Wrestling to see if its to their tastes, so it has to be said that DDT Universe is not user friendly for those outside of Japan. If you're signing up, check out this step-by-step English guide
Trying to navigate through the service beyond recent events can be extremely tricky, and takes a while to really work out. Unfortunately, it's because of this that many non-Japanese speaking customers have turned away from the service, and why some of you may be put off by it, however as you do get a month's free trial, I'd recommend at least trying it first and seeing how you work your way around to watching content
IF YOU CAN'T FIND A SPECIFIC MATCH OR EVENT: my advice would be to Google the event you're looking for or the wrestlers involved in the match you're looking for, and copying and pasting their Japanese character names into the search bar. ALTERNATIVELY, you can search for the year the event took place in, as searching for a wrestler or event in English rarely produces any results. Each thumbnail shows the date the event or match took place, and are listed in descending chronological order, so search for the year and look for the date of the event or match you need. Obviously, this is not ideal whatsoever and it can be somewhat time consuming or frustrating, but it's up to you whether the quality of the content available is worth the hassle to access it
The search bar hardly works in English due to majority of their roster and their events having Japanese names. And even when you search for gaijin wrestlers, not all of their matches come up due to mistranslations
Using DDT Universe is simply a case of trial and error – it may be too frustrating for some, but the reward of great and completely ludicrous pro wrestling will be more than worth the struggle for others. DDT Universe is perhaps the most diverse streaming service available in pro wrestling, as well as one of the cheapest, with twenty years of content to choose from. It's just a shame it's one of the worst to navigate.
As somebody that can't speak Japanese, the biggest shame about DDT Universe is that it does offer a lot of interesting documentary content that has no English subtitles. Match compilations such as the Heavymetalweight series are still watchable as the action inside the ring speaks for itself, but their road trip movie and biographical documentaries sadly are not.
In my opinion, everybody reading should at least try DDT Universe. With a one month free trial right there for you to take advantage of, why not give it a go? You've literally got nothing to lose. Sure, DDT Universe may be a little confusing to operate at first, but if you can get the hang of it, it's more than worth it.
So if you like seeing a man suplex people through the power of his penis, or championship belts being won by ladders and animals, or some of the best current wrestlers in the world before they made it to the big time, this is a universe you need to explore.
CLICK HERE FOR 15 OF KOTA IBUSHI'S WEIRDEST AND CRAZIEST MOMENTS
If you checked out DDT Universe, let me know what you thought over on Twitter @HairyWrestling